BATTERY CHARGERS ABC SERIES
The ABC Series chargers utilize time tested SCR charging circuitry, individually sensing and regulating each of 2 isolated battery banks, allowing the user to leave the charger operating indefinitely, even under no-load conditions without fear of overcharging. These chargers are ideal for vessels or vehicles which have an intermittent demand for battery power.
These chargers are housed in a rugged, powder coated aluminum, heat-sink case which extracts heat without introducing dust and moisture to the inside of the unit.
The rugged and reliable ABC charger is employed in hostile environments throughout the world in recreation and commercial marine applications, off-shore oil platforms, in mining equipment, emergency service vehicles and rugged off-road applications.
FEATURES
Total output ammeter
Dual independently regulated output banks
On-off switch and power "on" indicator light
Vibration absorbing mounting grommets
Powder coat aluminum case
115/230 VAC input selector switch
Auto-reset thermal breaker
Conformal coating of circuit board
Description
Amps
Output
Dimensions
Weight
Model
Input
@ F.L.
Volts
Banks
Amps
(H x W x D)

ABC 12-8

105-125 VAC or 210-250 VAC, 50-60Hz

1.5/.75

12

2

8

8" x 6" x 4.2"

9 Lbs.

ABC 12-25

5/2.5

12

2

25

11.9" x 4.7" x 6.2"

14 Lbs.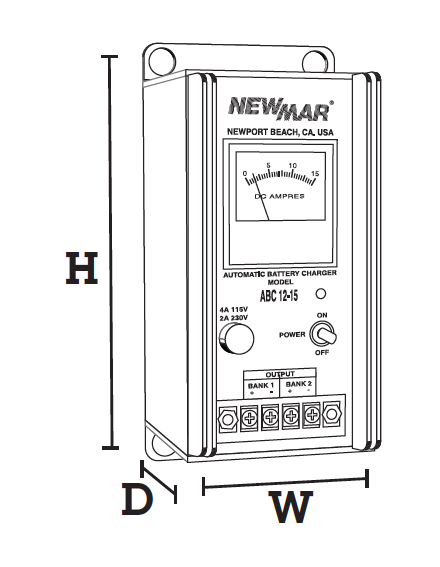 Duty Cycle Ratings: Rated Charging Output 20 min., derate to 50% for continuous output
Operating Temperature: 0 – 40° C
Float Voltage: 13.4 VDC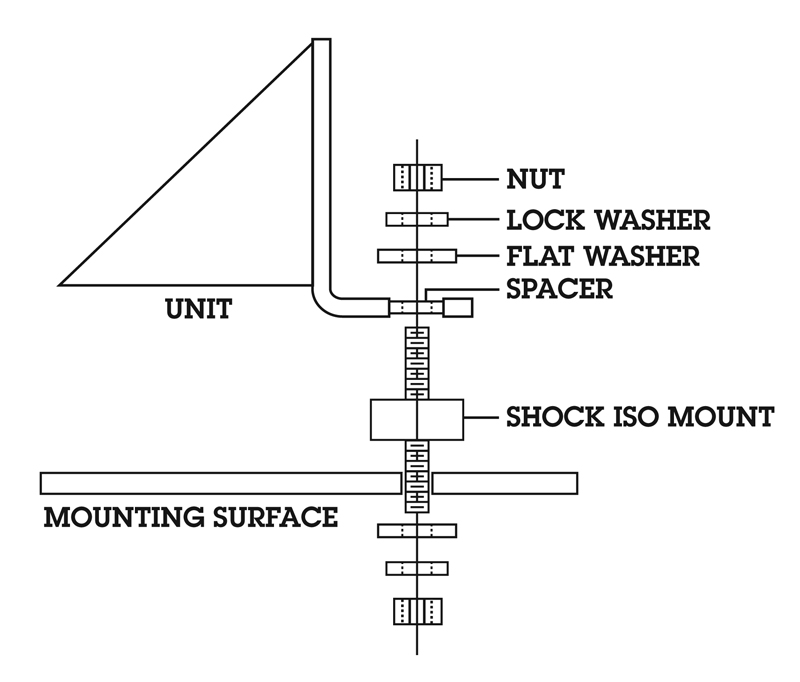 Option: Extreme Vibration Mounting Kit
The Extreme Vibration Mounting Kit is available to protect NEWMAR power converters from the extreme stresses of shock and vibration when mounted on high-vibration vehicles.
The kit (pictured here) replaces the standard vibration kit provided with the unit and fits into the unit's mounting flange to act as a "super shock absorber" for electronics in high-vibe applications. It is available to fit all NEWMAR units from 2 to 70 lbs. Specify KIT-L for units which weigh 2-15 lbs. and Kit-H for units which weigh 16-70 lbs.