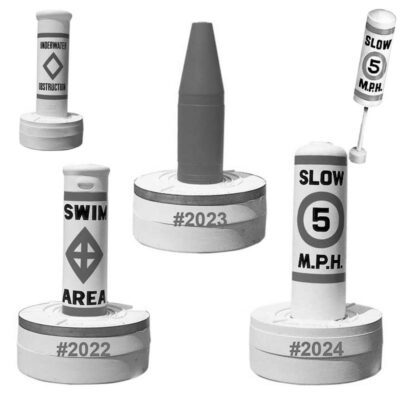 SOMBRERO BUOYS
• HUGE FLOATATION BASE – 12" high x 30" diameter size assures upright floatation under severe conditions!
• 2" WIDE ALUMINUM BAND – Protects base of buoy from jet-skis and boat crashes (optional*).
• CJ-37 ROCK HARD OUTER SHELL – Resists the hardest blows – almost indestructible!
• SYSTEM #10 VINYL DAYMARKS – Available in a multitude of shapes and daymarks and guaranteed a full five years!
Jim Buoy's all new Sombrero Buoy is designed to be used where maximum stability and buoy strength are of prime importance. With the addition of the 2" wide aluminum protection band (optional*) on the top edge of the jumbo flotation base, the Sombrero Buoy can withstand \ jet-skis and boat crashes that might otherwise permanently damage or tip over a standard buoy. In addition to positive, upright floatation, the large 12" high x 30" diameter base provides greater visibility because it naturally floats higher in the water! A galvanized external ballast** may be ordered for some models – other ballasts are internal, however (some weights may be necessary to add to the chains if a shallow condition exists). All colors are impregnated and molded into the tough CJ-37 Rock Hard outer shell for years of rugged maintenance free service. Eye bolts and metal components are galvanized steel for greater strength and resistance to rust and corrosion.
All models not pictured
*OPTIONAL, 2" ALUMINUM PROTECTION BAND — Easily installed to the top edge of the floatation base.  Add the letter "E" to model number when ordering – may also be purchased and added at later date.