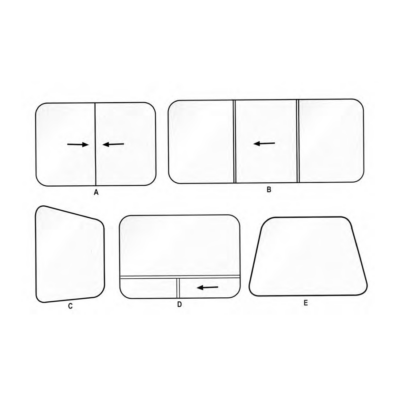 WINDSHIELDS & SIDE WINDOWS
Choose from the basic designs shown here, or let us quote you on your own design.  Swing-out windows are available in a limited number of designs.
Available Features
Stationary or removable sliding screens.
Heavy-duty, satin-finish anodized aluminum frames.
7/32" laminated safety glass.
7/32", 1/4", 3/8" or 1/2" tempered safety glass.
Clear or tinted glass.
3" radius corners or mitered corners.
Positive locking handle.
Glazing Options:
Laminated safety glass.
Tempered safety glass.
Polycarbonate.
Acrylic.
No-tint (clear).
Blue-green tint.
Solar bronze tint.
Solar gray tint.
Ordering Information
Please supply the following information:
Type of window (fixes, sliding, swing-out).
Dimensions of rough opening.
Type of glazing (see "Glazing Options").
Mounting method (clamp ring or flange bolted).
Overall bulkhead thickness (for clamp ring mount).
Screens (none, fixed, sliding).
Mitered corners or 3" radius corners.
You will be asked for specific size once quote is created.
INSTALLATION
Installation is fast and simple. Windows have a two-piece construction: the main frame retains the glass and the inner clamp ring secures the main frame. The two-part window installs by inserting the main frame from the outside into the proper bedding; then screw the clamp ring to the main frame from the inside. This compresses the bulkhead between the inner and outer frames. Both frames are flanged, permitting fast installation in fiberglass, wood or metal bulkheads. Window installation does not require bulkhead drilling. The inner clamp ring also serves as a trim ring and is available for bulkheads 1/8" through 2-1/2" thick.