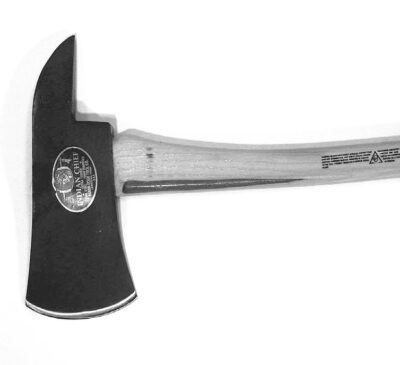 FIRE AXE
MANN'S "LITTLE FIREMAN"
The personal safety tool for every fireman. Sheath-protected, it is easy to carry, easily accessible. A fast-working tool in tight spots where the precision-balanced 15-inch handle permits easy swinging. Weighs only 1 1/2 lbs.; full polished, furnished in Indian Chief Red with gold trim. Snap sheath is high quality, hand stitched leather.
MANN'S PICKHEAD FIRE AXE (Shown)
Demanded for breaking and entering – FAST! Precision-balanced for safe handling in all three weights; 2 3/4, 4 1/2, and 6-lb. heads. 36-inch white No. 1 hickory handle (2 3/4 lb. size furnished with 24-inch or 28-inch handle of identical quality); handles furnished red if specified. This is the popular type for Chief's Car, Bus, Squad Car or Ambulance.
MANN'S FLAT HEAD FIRE AXE
Leads all others in constant demand from municipal fire companies, transportation companies, forest services, hotels and institutions; the six-pound head carries plenty of authority, is perfectly balanced for fast-cutting or hard driving. Full polished, and finished in Indian Chief Red. 36-inch clear lacquered No. 1 hickory handle.
BRACKET & HOOK
For mounting on walls, in buses, trucks, etc. This simple device permits storing fire axes out of the way with maximum attention to safety and security. The head fits into the tapered bracket, while the handle rests in the properly proportioned hook. Three sizes:
6" bracket for 4 1/2 lb. or 6 lb. axe
4 1/2" bracket for 2 3/4 lb. axe
3 3/4" bracket for 1 1/2 lb. axe
Set includes bracket and hook; easily installed by six screws.
CALL TO ORDER: Specify bracket size when ordering.