2544 DUAL FUNCTION CONTROL HEAD 1/8" NPT
DESCRIPTION
The 2544 Control Head consists of two 3-way directional control valves and an accurate, self-relieving pressure regulating valve. All valves are handle-cam actuated. With the handle in center position, both 3-way valve outputs are vented to atmosphere and the regulating valve output pressure is lowest. Movement of the handle through the first 20º in either direction actuates one of the 3-way valves, delivering full supply pressure to the chosen directional output. Handle output beyond 20º actuates the regulating valve, delivering its output according to handle position. The chosen directional output remains at full supply pressure from 10º to 80º of handle travel.
Weight: 9.1 lbs. (4.1 kg.)
Materials: Die-cast silicon bronze and stainless steel hardware.
Maximum Supply Pressure: 150 PSI (10.34 BAR)
Operating Temperature Range: -40ºC to +90ºC.
Pipe Port Size: 1/8" NPT
APPLICATIONS
• Used primarily for the control of throttles or governors and reverse clutches by a single handle.
• For pneumatic control of two mechanisms, one directional and the other proportional, by a single handle.
Description
ORDERING INFORMATION
Model Designation Order Codes:
C – One short handle (standard)
D – One long handle
E – Spring return handle
V – Handle with plastic grip
H – Chrome finish dome
J – Polished brass finish dome and handle
K – Black epoxy finish dome and chrome handle
N – 0-60**
P – 0-80**
R – 0-100**
S – 0-120**
T – 10-60**
U – 10-80**
W – 10-100**
X – 10-120**
**Standard Pressure Ranges (PSI). Other Ranges Available on Request
The Standard Model 2544 Control Head is supplied as follows:
1. Short handle
2. Chrome finish cover and handle
3. In any standard pressure range
To order, state Model Number, followed by Model Designation Letter Codes listed above.
Example: Standard 2544 with 10-80 PSI pressure range. Order No. 2544-CHU.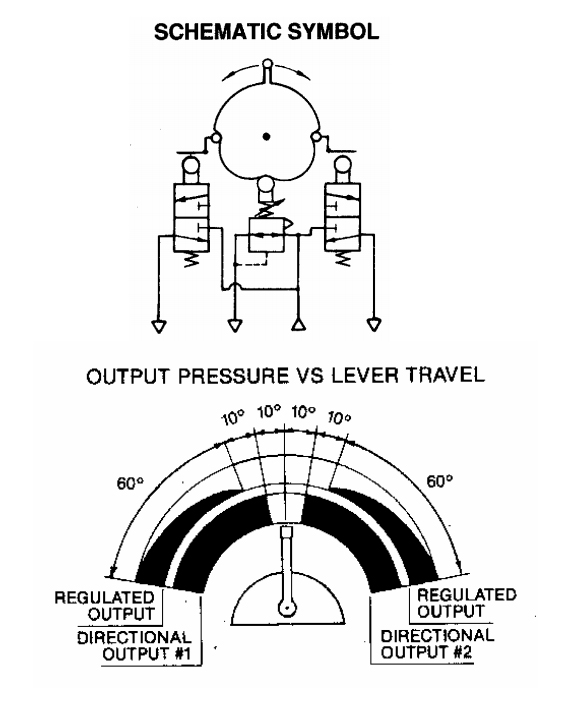 | ITEM | QTY | PART NO. | DESCRIPTION |
| --- | --- | --- | --- |
| 1 | 1 | 3217 | Valve• |
| 2 | 2 | 1002-1024 | Socket Head Screw |
| 3 | 5 | 1101-0010 | "O" ring |
| 4 | 2 | 1023-0232 | Flat Washer |
| 5 | 1 | 1001-1028 | Hex Head Screw |
| 6 | 1 | 2545-0002 | Spacer |
| 7 | 3 | 1001-0808 | Hex Head Screw |
| 8 | 5 | 1022-0108 | Nut |
| 9 | 1 | 2545-0001 | Roller Arm |
| 10 | 2 | 1029-1031 | Snap Ring |
| 11 | 1 | 2542-0011 | Pin |
| 12 | 1 | 2543-0009 | Roller |
| 13 | 1 | 2543-0001 | Cover |
| 14 | 1 | 2543-0002 | Frame |
| 15 | 4 | 1002-1010 | Socket Head Screw |
| 16 | 1 | 2545-0003 | Cam |
| 17 | 1 | 2545-0008 | "Fork" Cam |
| 18 | 2 | 1001-0812 | Hex Head Screw |
| 19 | 1 | 2544-0007 | Bushing |
| 20 | 1 | 1001-1020 | Hex Head Screw |
| 21 | 1 | 2544-0001 | Ports Support |
| 22 | 1 | 3803-B | Valve |
| 23 | 1 | 2544-0003 | Plate |
| 24 | 5 | 1010-0806 | Round Head Screw |
| 25 | 3 | 1009-0806 | Flat Head Screw |
| 26 | 1 | 1024-0816 | Spring Pin |
| 27 | 1 | 2544-0004 | Roller |
| 28 | 2 | 1002-1008 | Socket Head Screw |
| 29 | 1 | 2545-0005 | Handle (Short) |
| 29 | 1 | 2545-0014 | Handle (Long) |
| 29 | 1 | 2545-2005 | Handle with Plastic Grip (Short) |
| 29 | 1 | 2545-2014 | Handle with Plastic Grip (Long) |
| 30 | 1 | 2542-0009 | Bracket |
| 31 | 1 | 2544-0005 | Shoulder Screw |
| 32 | 2 | 1002-1020 | Socket Head Screw |
| 33 | 1 | 2544-0008 | Gasket |
| 34 | 1 | 1016-1004 | Set Screw |
| 35 | 2 | 1005-0808 | Oval Head Screw |
| 36 | 2 | 1032-0304 | Rivet |
| 37 | 1 | 2545-0013 | Indicator Stri |
| 38 | 2 | 1016-1205 | Set Screw |
| 39 | 1 | 1201-0062 | Sring |
| 40 | 1 | 2545-0012 | Detent Pin |
| 41 | 1 | 1201-0003 | Sring |
| 42 | 1 | 2545-0021 | Friction Pad |

• When ordering valve, specify pressure range using Model Designation Letter Codes from previous page.

 A Repair Kit is available consisting of all seals and gaskets.

Order No. 2544-RK.

ALL DIMENSIONS IN INCHES (mm)