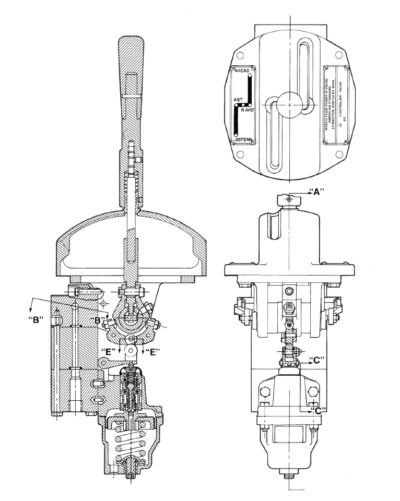 2A-2A CONTROLAIR PNEUMATIC CONTROL HEAD
Ordering Reference
Not recommended for exposed weather deck installation due to open cover slot.
2A-2A Controlair Valve
| New Part Number | Old Part Number | Pressure Range |
| --- | --- | --- |
| R431009268 | P -065775-00000 | 7 – 61 psi (0.5-4.2 bar) |
| R431009269 | P -065775-00001 | 28 – 71 psi (1.9-4.9 bar) |
Installation Drawing DP65775
Weight – 25lb. (11.34 kg.)
MAJOR REPAIR KIT ORIGINAL 2A-2A:
(Old part number) P-064735-001
(New part number) R431006487
Description
2A-2A CONTROLAIR® PNEUMATIC CONTROL HEAD – safe and efficient single lever control
The 2A-2A valve was designed especially for marine control applications. It provides single-­handed control of propulsion direction and engine speed for finger-tip maneuvering control. The large easy-to-operate control handle moves through a "Z" slot, putting the clutch in neutral when the handle is in the middle of crossover portion of the "Z". The handle locks in any position simply by twisting the handle.
The deluxe 2A-2A valves are completely constructed of non -ferrous materials for long, hard service. An attractive and durable polished chrome-plated 303 stainless steel cover and chrome-plated brass handle help preserve the rugged good looks of a bridge console where only the finest is good enough.