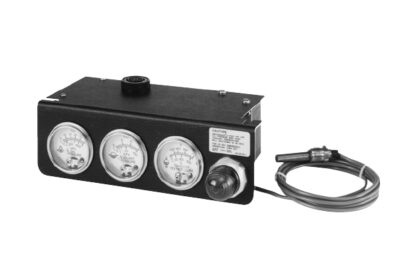 MOBILE EQUIPMENT KITS – WAI8 Panel Assembly
Open-Style Panel with:
• Oil Pressure SWICHGAGE®
• Coolant Pressure SWICHGAGE®
• Coolant Temperature* SWICHGAGE®
• MINI-SIREN®
• TL7 flashing alarm light
• 760AF Magnetic Switch w/30 second time delay for alarm before shutdown; 12 VDC, (optional 24 V)
You get accurate engine readings and time-delayed automatic shutdowns. Flashing light and MINI-SIREN® signal a warning before the shutdown. Alarm-only panels (without shutdown capabilities) are also available. WAI kits are easy to install and function test without the need for expensive auxiliary equipment. Each is a cost competitive and effective system for engine protection.
*Temperature capillary length is standard 6 ft. (1.8 m). Specify longer lengths.