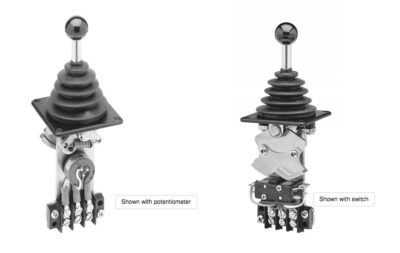 MODEL 7165 COMPACT SINGLE AXIS JOY STICK
DESCRIPTION
This unit is especially designed to control positioning devices for either on/off or infinite positioning. It can be equipped with either micro switches or a potentiometer. The micro switches would give an Off / On signal in either direction while the potentiometer can provide infinite control in both directions. This unit is available either with spring return or with detent and/or friction. The potentiometer is available in either 1K or 5K ohms. The entire unit is constructed mainly in bronze and stainless steel. Its compact design allows the unit to be installed on virtually any small space.
OPTIONS
A Detent
B Spring Return
E Terminal Strip
D 1K Potentiometer
G Jog Switches
H 5K Potentiometer
W Friction
Ordering code: e.g. 7165L-AEGW as shown
Approx. weight: 1 lb. (0.5 kg)
Note: this model replaces the older model which has a slightly smaller base.