OIL PRESSURE TUBING KIT
DHK Model
• Custom Fit Oil Pressure Line for Any Engine
• Swaged Fittings
• Wide Pressure and Temperature Compatibility
• Tough Materials for Industrial Use
• Adapters for U.S. or Metric
Description
The Deluxe (DHK) oil pressure tubing kit can be used with a variety of Murphy SWICHGAGE® and MURPHYGAGE® instruments. This kit consists of gauge fitting, pressure tubing, and engine fitting.
The Deluxe kit is ideal for heavy-duty industrial applications. The nylon core is reinforced with a synthetic fiber braid and polyurethane cover. Both ends of the pressure tubing have swaged fittings.
The Deluxe kit allows you to choose the type of gauge and engine fittings for your application. Choose straight or elbow fittings for both gauge and engine connections. In addition, the kit offers a variety of engine adapters to fit your application. These adapters are available in U.S. or metric threads.
Description
Features
Deluxe Kit
• Tubing will not swell or absorb fluids which can cause restriction of the I.D. or release contaminants into the system.
• Synthetic fiber reinforcing braid eliminates wire that often fatigues, breaks, and may puncture the core tube.
• Thermoplastic core tube is resistant to practically all oils and hydraulic fluids.
• Swaged fittings for tough applications.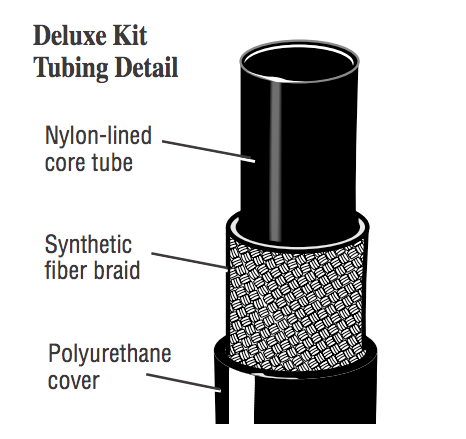 Specifications
Tubing: Nylon, 1/8 in. (3 mm.) I.D. suitable for continuous service from -40 to 200°F (-40 to 93°C). Intermittent service +250°F (121°C).
Fittings: Brass and steel.
Adaptors: Brass and steel.
Washers: Copper (supplied with all non-tapered thread fittings).
Working Pressure: 2,500 psi (17.2 MPa) [172.0 bar].
Minimum Burst Pressure:10,000 psi (68.9 MPa) [689.0 bar] @ 200°F (93°C).