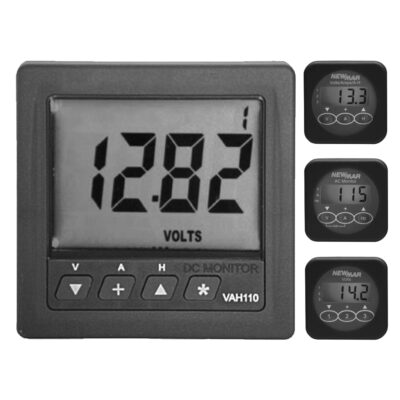 DIGITAL INSTRUMENTS FOR AC/DC SYSTEMS
These highly versatile and sleekly designed digital instruments provide comprehensive monitoring of onboard AC and DC electrical systems. They give quick, accurate, up-to-the moment information on all important aspects of electrical system status  – voltage, current, power consumed, power available, AC frequency, abnormal system conditions, and more.
All read-outs and programming of these multiple functions are easily controlled via touch-pads on the instrument face. LCD displays are easily read in bright sunlight and feature five level adjustable red back-lighting for conservation of night vision. High/low voltage and frequency alarms are standard, and DC monitors are NMEA 0183 compatible. Typical accuracy is +/- 1%.
These instruments are waterproof and are suitable for installation in exposed above deck areas, such as open cockpits and flybridges (provided there is no water ingress to the rear of the mounting surface). The meter/touch-pad and surrounding bezel are fully waterproof and the ABS housing is UV stabilized.
All models are designed for through-bulkhead mounting; 2 1/2" models may also be installed in NEWMAR's Single Universal Series panel.
All instruments are pre-calibrated for typical use settings at the factory prior to shipment, however they may be recalibrated via touch pad after installation to suit the special needs or conditions of any particular vessel.
Description
DCE:

DC Energy Monitor

Displays volts, amps, energy used and remaining for 12 or 24 volt systems up to 500 amps and up to 3,000 amp-hour capacity. Makes DC energy management a breeze. Monitor voltage on up to three separate banks. House bank (or battery bank of choice) may be also be programmed for the following functions:

1) Monitor charge/discharge amperage.
2) Total energy monitor can be set for amp-hours or percent-of-charge.
3) High/low voltage alarm, plus alarm set-point for low amp-hours remaining. 500 amp shunt included. NMEA 0183 compatible output for data logging.

Available in 2 1/2" or 4 1/4" square face.
ACE: AC Energy Monitor
For 115/230 volt systems. Reads: 90-300 VAC (True RMS), 0-150 amps, frequency from 40-70 Hz and power from 0-45 kW. Features alarm circuits for high/low voltage and high/low frequency. Can be programmed to provide automatic generator shutdown (see Remote Alarm Option below) in the event that voltage or frequency exceed predetermined range. Current and voltage transformers are included. 12 or 24 volt source required to power meter.
Available in 2 1/2" or  4 1/4" square face.
DCV: DC Voltmeter
For three battery banks, 12 and/or 24 volt systems. Reads to the nearest 1/10 volt. Features a programmable high/low voltage alarm circuit for each bank. NMEA 0183 compatible for PC interface. Only available in 2 1/2" version.
Large Scale Models Now Available
Our DCE and ACE Digital Instruments are now offered in a large LCD read-out design. Digits are an easy-to-read 1 1/4" tall, allowing monitoring from a distance. Large button keypads make programming and function selection a breeze! All instrument ratings and functions are identical to standard scale instruments described at left. Mounting hole requirements and hardware are also identical to standard scale models. Instrument face dimensions: 4 1/4" x 4 1/4" (110 mm x 110 mm)
Models
DCE-VAH-110 Large scale version of DCE shown at left
ACE-VAF-110 Large scale version of ACE shown at left
Remote Alarm Relay Option
All instruments shown on this page have programmable alarms. A relay is now available that activates from the instrument alarm signal output terminal allowing remote activation and/or connection to the vessel's 12
or 24 volt alarm panel.
Model:
DIR Digital Instrument Relay Input Signal: 5 VDC
Relay Rating: 12/24 VDC, 10 amps
Size: 2.4" x 1.4" x 1.5"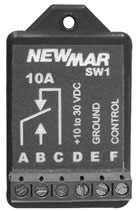 Instrument Drawings & Mounting Options
2 1/2" model depicted: Large Scale Instruments use identical size mounting hole and hardware configuration.