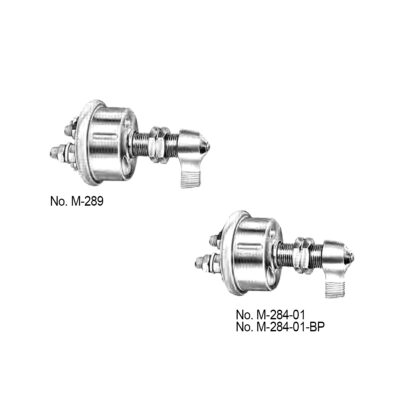 DISCONNECT SWITCHES
No. M-289
Master Disconnect Switches
D.P.S.T. OFF-ON – Disconnect battery circuit and field circuit.
• For 6-36 Volt, D.C. electrical systems
• Brass case.
• Chroime plated die-cast lever
• Brass mounting stem 3/4" (19.05mm) dia. 1-13/32" (46.05mm) long
• Fits panels up through 15/16" (23.81mm) thick
No. M-284-01
No. M-284-01-BP*
Master Disconnect Switches
S.P.S.T. OFF-ON – Disconnect battery circuit only.
Designed to prevent electrical fires, theft and battery drain when equipment is unattended. Marine UL 707B listed switches confors to US Coast Guard Safety Standard Section 183.410 for ignition protection.
Electrical ratings on UL labels are conservative. Cole Hersee master disconnect switches are capable of handling higher amerages.
• For 6-36 Volt, D.C. electrical systems
• Brass case.
• Chroime plated die-cast lever
• Two 3/8" (9.52mm) diameter stud terminals.
• Fits panels up through 15/16" (23.81mm) thick
• UL rating at 6-36 volts, D.C. 175 Amps continuous. 800 amps intermittent, 15 seconds ON, 5 minutes OFF.
• UL listed and labeled
• Silver contacts.