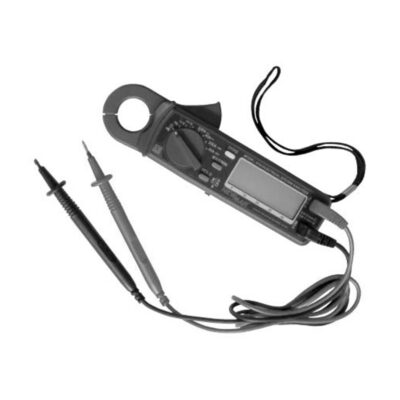 GROUNDING NOISE FILTERS – Electrical System Analyzer
Model ESA
An essential tool for any marine electrical system installer or surveyor, the Electrical System Analyzer provides extremely accurate data on all major AC and DC electrical functions in a convenient hand-held device with large easy-to-read
LCD display.
Measures and Displays:
AC Voltage up to 400 VAC
AC Current up to 200 Amps
Frequency at 50-100,000 Hz
DC Voltage up to 400 VDC
DC Current up to 200 Amps
Electrical Continuit
Features:
Clamping sensor allows current measurement without disconnecting wiring or shunt installation
Long easy-grip color coded needle-type test probes
Operates on two AA batteries (provided)
Protective carry-case included
Description
Specifications:
Model: DBA – Digital Battery Analyzer
Battery Type: 12 or 6 VDC nominal, lead-acid (flooded, gel or AGM), deep-cycle or gen/engine start
Battery Capacity: 100-1400 CCA (Cold Cranking Amps)
Operating Range: 5.5 – 14.0 VDC
Input Power: Operates on power of battery under test, down to 5.5 VDC Display Type: LCD
Temp. Range: 32-120˚F (0-50˚C); temperature compensation provided below 32˚F
Protection: Will not be harmed by accidental reverse polarity connection Case Material: Acid resistant ABS plastic
Size: 9″ x 4″ x 2.5″
Weight: .9 lb., .4 kg.
Warranty: Two Years
Simple testing Procedure
Clip DBA leads to battery terminals
Using touch pad, select battery CCA rating from display menu. Press start test button.
In less than a minute, the unit analyzes then displays:
Battery voltage 2
Available power (in CCA)
One of the following battery condition readouts:
GOOD BATTERY
GOOD-RECHARGE
CHARGE & RETEST
REPLACE BATTERY
BAD CELL-REPLACE BATTERY