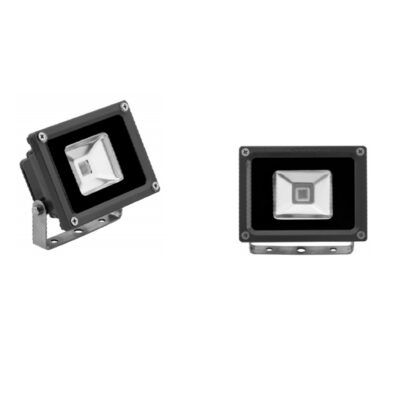 10 WATT LED FLOOD LIGHTS
Specifications
Light Source:
1 x 10 Watt Ceramic LED
Power Consumption:
10 Watts
Efficiency:
> 90o/o
Lumens per Watt:
70 Lms/ Watt
Beam Angle:
80°
LED Colors:
3200K Warm White or 3900K Soft White
Color Rendering Index:
>80 CRI
Operating Voltage:
10V-30V/DC Low Power Version – 85V-265V 50-60Hz I AC High Power Version
Housing Material:
Aluminium: ZL 102 Mn0.2~0.5. mg<=0.25, Si<=0.65
Hardware and 'Mounting Bracket:
A4 316 Stainless steel
IP Rating:
IP67
Finish:
Double Powder Coated Grey or White
Dimensions:
114.5mm x 86 mm x 89mm (W x H x D)
Certifications:
CE Certificate Number: B-E09110908
EMC Directive 204/108/EC
EN 55015: 2006+A 1: 2007
EN 61000-3-2: 2006/A2: 2009
EN 61000-3-3: 2008
EN 61547: 1995+A1: 2000
Compliant with:
UL 1993
NMX-J-578/1
CSA C22.2 No. 1993-09
Description
Maintenance Free
50,000 Hrs LED Life equal to 30 Yrs Service
80-900/o less Power Compared to Halogen
Vibration & Shock Mounted LED
Cool Running
Grey or White Finish
Aluminum Double Powder Coated Housing
Designed for Commercial Marine Use
Marine 316 Stainless Hardware and Bracket
Waterproof IP67 Rated
1 Year Warranty
50° /80 ° /100 ° Beam Angles
3900 Kelvin Soft White Color Temperature
SSV to 265V AC
50/60Hz Power Input
10w also available in 12-30v ac/dc, 70 Lumens per Watt, No UV Output = No Bugs
10 Watt LED = 80 Watt Halogen
30 Watt LED = 300 Watt Halogen
50 Watt LED = 500 Watt Halogen
80 Watt LED = 750 Watt Halogen
These commercial LED Floodlights are attractive, cost-effective, green generation lights designed for the workboat and commercial marine industries. A lifetime of dependable and maintenance free performance can be expected.
With their 80-90°/o reduction in power consumption and expected 30 year life cycle, these lights provide green-generation, leading- edge technology over old fashioned flood lights.
Their instant-on, cool-running operation provides an efficient and dependable alternative to conventional filament style fixtures.