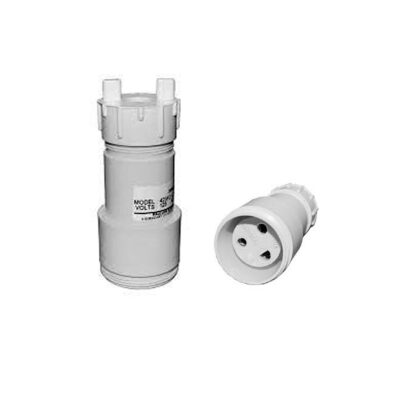 PROCONNECT 420/FC/PP/MW
FEATURES
Unique pin and sleeve design prevents accidental mating of non-marine rated devices.
Voltage specific keyed ground pin assures proper mating.
Non-metallic plugs with integral threaded ring maintain a watertight seal.
Engineered plastic version of the Pauluhn brass 420 Series.
Compatible with Pauluhn 20 Amp pin and sleeve devices
Plugs, female connectors and sets of each are available.
APPLICATIONS
Wharfs and docking facilities

Marine and watertight requirements

Ship to shore power

Dry dock temporary power usage
APPROVALS
See below for Part Number details
Description
TECHNICAL SPECIFICATIONS
BODY/CAP/RING
Acrylonitrite Butadiene Styrene/Polycarbonate blend (ABS+PC).
PINS AND SLEEVES
Free machining brass.
CORD GRIP GROMMET
One piece neoprene.
CABLE RANGES
2P3W – .437 – .312
3P4W – .563 – .437
VOLTAGE AND CURRENT
125v AC, 20 Amp max
208v AC, 20 Amp max
250v AC, 20 Amp max
277v AC, 20 Amp max
480v AC, 20 Amp max
600v AC, 20 Amp max
Ordering Preferences
PART NUMBER
DESCRIPTION
125 VOLT
208 VOLT
250 VOLT
277 VOLT
480 VOLT
600 VOLT
WEIGHT LBS
2P3W Plug
420PP-125
N/A
420PP-250
420PP-277
420PP-480
N/A
0.3
2P3W Female Connector
422FC-125
N/A
422FC-250
422FC-277
422FC-480
N/A
0.3
2P3W Plug & Connector
426PC-125
N/A
426PC-250
426PC-277
426PC-480
N/A
0.6
3P4W Plug
420-4PP-125
420-4PP-208
420-4PP-250
N/A
420-4PP-480
420-4PP-600
0.3
3P4W Female Connector
423FC-125
423FC-208
423FC-250
N/A
423FC-480
423FC-600
0.3
3P4W Plug & Connector
426-4PC-125
426-4PC-208
426-4PC-250
N/A
426-4PC-480
426-4PC-600
0.6