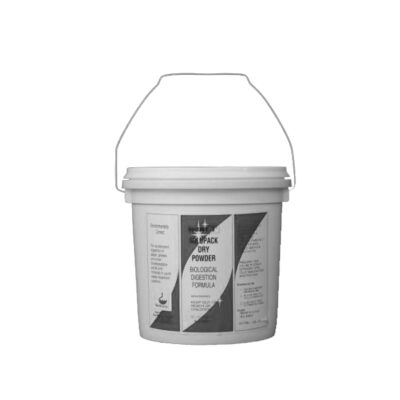 HOLDING TANK CLEANER
HOLDING TANK CLEANER
Degrades Waste and Compatible with All MSD Configurations. BacTANK T3® HOLDING TANK: Although drain lines and interceptors are not designed to be microbial reactors, they provide nutrient-rich environments for bacterial growth. But they need the right microbes to optimize biological treatment. Hydraulic retention time is limited and 4
organisms with very high rates of activity are required. THE RIGHT MICROBES OR "PROMICROBIALS" MAKE HOLDING TANKS WORK MORE EFFECTIVELY.  FEATURES: LIQUID OR POWDER Easy to use formulation that can be applied manually. Stable, high count blend of promicrobials with a 2 year shelf life. Contains 200 billion bacteria per gallon. 16oz, 32oz, 64oz, l Gal, 5 Gal, 55 Gal, 275 Gal. 
SOLUPACK DRY POWDER
Easy to Use Dissolving Packs that Break Down Waste. BacTANK T3® DRY POWDER: A dry bioenzymatic organic digester. The powder has a blend of 8 strains of non- pathogenic bacteria and multiple enzymatic properties. Various counts of bacteria are available from 1 billion/gram to 6 billion/gram. The formula is designed to improve liquefication and digestion of fats, proteins, starches and carbohydrates. It has a specific bug for grease degradation, which is lacking in most dry powders. 4oz., 8oz., 5lb, 55Ib, 10lb, 25lb 
SAFE SCRUB
Attack waste and stains with this Bio-enzymatic Solution .. BacTA.NK T3® SAFE SCRUB: A bio­enzymatic product specifically designed to clean tough stains on hard surfaces. It is an exceptional cleaner for bathrooms, toilet bo\iv ls, sinks and fixtures. Use with BacTANK T3® HOLDING TANK. It has compatible bacteria along with a non-­scouring silicone abrasive. 16oz.