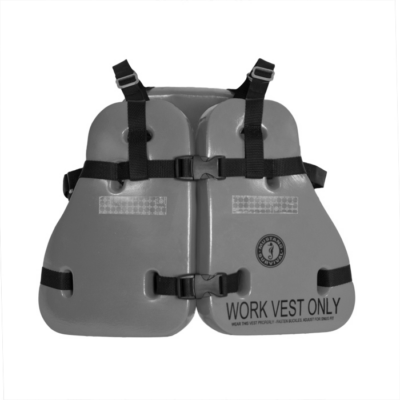 FOAM FLOTATION – MV3092
VINYL DIPPED WORK VEST
MV3092/MV3092 SS
Stay safe on the job with this classic PFD perfect for a variety of industrial applications.
FEATURES
• Easy to clean vinyl exterior
• Reflective tape on front & back
• Delrin front closure buckles
• Fall protection slot on back
• Order part number CS4500 to have tUS-ACE required 62 sq. inches of reflective added to vest (Minimum order of 24 pcs.)
SIZE

Universal
Weight: 80lbs+ (36.3kg+)
Chest: 30-52″ (76-132cm)

COLORS

Orange

APPROVAL

USCG Type V WORK VEST
MV3092 SS comes with stainless steel fasteners in lieu of standard plastic clips.