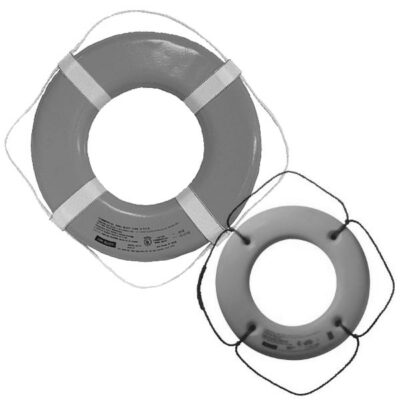 U.S. COAST GUARD APPROVED LIFE RINGS
Hard Shell 30's Series – DESIGNED FOR EXTREME ROUGH USAGE
Features an orange, rock hard, cross-linked polyethelene outer shell with molded-in rope holes. Will not rot or mildew and is unaffected by harsh weather extremes and carries a limited five year warranty! Complete with black, vinyl coated polypopylene rope; easily replaced if necessary. Available in SOLAS and USCG Approved models, 30" diameter size only.
Model # HS-30 USCG – Approval #160.050/154/0
Model # HS0-30 SOLAS – Approval #160.050/155/0 and #160.150/11/0
6 per ctn., shpg. wt. 35 lbs. – Both models available in bright, International Orange only.
'NO-STRAP MODEL' USCG-APPROVED
Model #GO-X-30: 30" dia., 6 per ctn., wt. 33 lbs., CG #160.050/104/1
Model #GW-X-30: 30" dia., 6 per ctn., wt. 33 lbs., CG #160.050/104/1
Model #GW-X-24: 24" dia., 6 per ctn., wt. 21 lbs.,CG #160.050/60/2
Model #GO-X-24: 24" dia., 6 per ctn., wt. 21 lbs., CG #160.050/103/1
Model #GW-X-20: 20" dia., 6 per ctn., wt. 18 lbs.,CG #160.050/61/2
Model #GO-X-20: 20" dia., 6 per ctn., wt. 18lbs.,CG #160.050/102/1