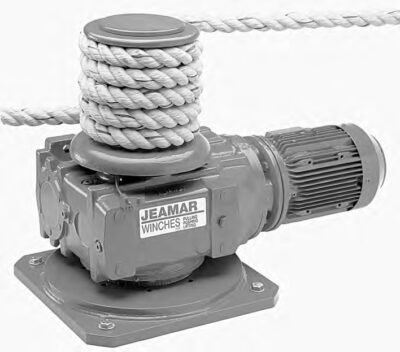 CAPSTAN WINCHES
VC 2000-26 / VC 5000-30 / VC 5000-45 / VC 8000-13 / VC 8000-30 / VC 12000-17 / VC 15000-13 / VC 18000-17 / VC 22000-17
Direct Drive
A direct-drive design increases the efficiency of the capstan winch and eliminates drive chains or bull gears to maximize power output.
Any Angle
The rope can leave the drum at any angle, enabling the operator to stand in the most appropriate, out-of-line-of-sight location. For safety, the load line shall be the bottom wrap on the drum, and the lead line going to the operator will be the top wrap on the drum
Gear Reducers
All Jeamar capstan winches utilize high-efficiency worm, helical, helical-worm or helical-bevel reducers plus high-capacity, anti-friction bearings designed for long life, low noise and higher output torque.
High Starting Loads
High-starting-torque, 3-phase motors are available in all standard voltages at 50 and 60 Hz. These motors are suited to railcar pulling where momentary overloads occur when a railcar is started in motion. Single phase motors at 115/230 volts at 50 or 60 Hz are available as an option on some models.
Load Calculations
For detail on pulling railcars up grades, send for our free railcar pulling brochure.
Controls
Capstans can be supplied with start/stop, foot-operated controls of the "deadman" variety. If the operator's foot moves off the switch, the capstan will stop. This type of control allows the operator to use two hands on the rope, for optimum control.
Hydraulic and Air-Driven Motors
Capstan winches can be supplied with either hydraulic or air motors.
Explosion Proof
Fully explosion-proof motors and controls are available for applications in hostile or volatile environments.
Torque Limitation
Capstans can be supplied with a variable frequency drive (VFD) package. The VFD controls the amount of current that the motor can draw, limiting the amount of torque that the electric motor can produce.
Description
Model Number
VC 2000-26
VC 5000-30
VC 5000-45
VC 8000-13
VC 8000-30
VC 12000-17
VC 15000-13
VC 18000-17
VC 22000-17
Working Load Limit Starting
lb
2000
5000
5000
8000
8000
12000
15000
18000
22000
kg
907
2268
2268
3628
3628
5442
6803
8163
9977
Working Load Limit Running
lb
1000
2,500
2500
4000
4000
6000
7500
9000
11000
kg
454
1134
1134
1814
1814
2721
3401
4082
4989
Rope Speed
ft/min
26
30
45
13
30
17
13
1 7
17
m/min
8
9
14
4
9
5
4
5
5
Rope Diameter* (Polypropylene)
in
5/8
1-1/8
1-1/8
1-1/2
1-1/2
1-3/4
2

–

–
mm
16
29
29
38
38
44
50

–

–
Rope Diameter* (Spect-Set)
in
5/8
5/8
5/8
3/4
3/4
7/8
1
1-1/4
1-1/4
mm
16
16
16
20
20
22
25
32
32
Motor
Hp
1.5
3
5
3
5
5
5
7.5
7.5
kW
1.1
2.3
3.8
2
3.8
3.8
3.8
5.7
5.7
Weight
lb
202
330
355
452
474
660
1124
1162
1379
kg
92
150
161
205
215
299
510
527
625
Dimensions
A
in
9.00
9.00
9.00
14.50
14.50
14.50
17.00
17.00
17.00
mm
229
229
229
368
368
368
432
432
432
B
in
5.58
6.00
6.00
6.75
8.75
8.75
10.50
10.50
12.40
mm
142
152
152
222
222
222
267
267
315
C
in
14.66
26.39
26.39
27.62
27.62
30.00
32.00
32.66
51.66
mm
372
670
670
702
702
762
813
830
1312
D
in
11.83
14.00
14.00
18.00
18.00
19.77
23.69
23.69
22.90
mm
300
356
356
457
457
502
602
602
582
E
in
8.95
10.05
10.05
11.81
11.81
13.75
16.09
16.09
11.88
mm
227
255
255
300
300
349
409
409
302
F
in
5.25
11.50
11.50
11.50
11.50
11.50
11.50
11.50
11.50
mm
133
292
292
292
292
292
292
292
292
G
in
0.75
0.75
0.75
1.00
1.00
1.00
1.25
1.25
1.25
mm
19
19
19
25
25
25
32
32
32
H
in
4.00
7.00
7.00
7.00
7.00
9.00
11.00
11.00
11.00
mm
102
178
178
178
178
229
279
279
279
J
in
0.81
0.81
0.81
1.06
1.06
1.06
1.31
1.31
1.31
mm
21
21
21
27
27
27
33
33
33
K
in
11.00
11.00
11.00
17.50
17.50
17.50
21.00
21.00
21.00
mm
279
279
279
445
445
445
533
533
533