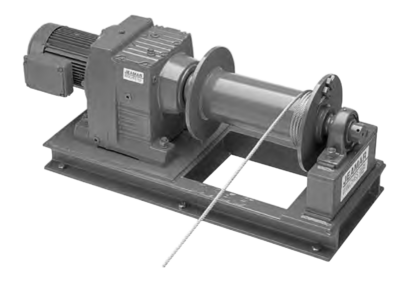 ELECTRIC HAULING WINCH
SINGLE PHASE HAULING WINCHES
Model No. NHS 550 / 1100 / 1900
THREE PHASE HAULING WINCHES
Model No. NHT 550 / 1100 / 1900 / 2800 / 4000 / 5800 / 7500 / 9000 / 11000 / 15000 / 17000
Winch Drums
Drums are steel fabricated and designed to specific loading capacity. Drums are sized according to ASME B30.7.94 to provide a minimum pitch diameter of 15 times the nominal rope diameter on Hauling Winches and 18 times on Lifting Winches.
Direct Drive
A simple, direct-drive design increases the efficiency of the winch for maximum power output.
Any Position
An open-base design permits mounting in horizontal or vertical positions.
Ball & Roller Bearings
Friction load loss is reduced to a minimum through the use of ball and roller bearings.
Power In — Power Out
For added safety, all winches are fully reversible.
High Service Factors
Jeamar winches are designed and manufactured for continuous, heavy-duty operation with a minimum service factor of 1 (one).
Gear Reducers
All Jeamar hauling winches have high-efficiency helical gear reducers plus high-capacity, anti-friction bearings for long life, low noise and high output torque. Jeamar Lifting Winches utilize high efficiency helical worm or worm reducers.
Electric Motors
The full range of Jeamar's heavy duty electric winches is available with 3-phase motors in any standard voltage at 50 or 60 Hz, with a selection of single phase in any standard voltage at 50 or 60 Hz. All motors are TEFC flange mounted and conform to NEMA, EEMAC or IEC specifications.
Braking Systems
Standard on all heavy duty lifting winches, the electromagnetic brake is a disc type that is activated automatically in the event of a power interruption. The brake will stop the winch and hold the load securely. Due to the high ratio of the worm gear, it has the effect of a secondary braking system in accordance with the requirements of OSHA. When a Hauling Winch is used to move loads on an incline, it is essential that a brake be used.
Description
SINGLE PHASE HAULING WINCHES
Model Number
NHS 550
NHS 1100
NHS1900
Working Load Limit
(1st Layer)
lb
550
1100
1900
kg
249
499
862
Working Load Limit
(4th Layer)
lb
412
785
1355
kg
187
356
615
Line Speed
(1st Layer)
ft/min
25
28
24
m/min
7.6
8.5
7.3
Line Speed
(4th Layer)
ft/min
33
39
34
m/min
10.1
11.9
10.4
Rope Diameter
in
1/8
3/16
1/4
mm
3
5
6
Rope Capacity
(4th Layer)
ft
105
160
215
m
32
49
66
Motor
Hp
1/2
1
1-1/2
kW
0.4
0.7
1.1
Weight
lb
90
140
232
kg
41
63
105
THREE PHASE HAULING WINCHES
Model Number
NHT 550
NHT 1100
NHT 1900
NHT 2800
NHT 4000
NHT 5800
NHT 7500
NHT 9000
NHT 11000
NHT 15000
NHT 17000
Working Load Limit
(1st Layer)
lb
550
1100
1900
2800
4000
5800
7500
9000
11000
15000
17000
kg
249
499
862
1270
1814
2630
3401
4082
4989
6803
7710
Working Load Limit
(4th Layer)
lb
390
785
1357
2015
2900
4230
5280
6615
7850
10770
12230
kg
177
356
615
914
1315
1918
2395
3000
3560
4884
5546
Line Speed
(1st Layer)
ft/min
27
28
31
31
25
26
29
25
28
21
28
m/min
8.2
8.5
9.5
9.5
7.6
7.9
8.8
7.6
8.5
6.4
8.5
Line Speed
(4th Layer)
ft/min
38
39
43
43
34
35
41
34
39
30
39
m/min
11.6
11.9
13.1
13.1
10.4
10.7
12.5
10.4
11.9
9.1
11.9
Rope Diameter
in
1/8
3/16
1/4
5/16
3/8
7/16
1/2
9/16
5/8
3/4
3/4
mm
3
5
6
8
10
11
13
14
16
19
19
Rope Capacity
(4th Layer)
ft
113
117
226
215
275
290
250
350
315
375
375
m
34
36
69
66
84
88
76
107
96′
114
114
Motor
Hp
1/2
1
2
3
3
5
7 1/2
7 1/2
10
10
12 1/2
kW
0.4
0.7
1.5
2.2
2.2
3.7
5.6
5.6
7.5
7.5
9.3
Weight
lb
94
146
229
450
500
700
950
1230
1500
1900
2100
kg
43
66
104
204
227
317
431
556
680
840
952