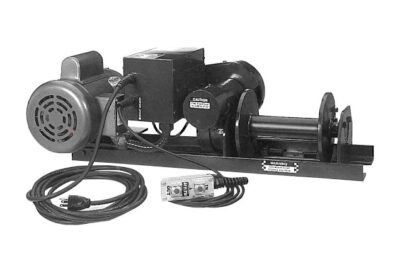 WINCH HOISTS – THE VERSATILE SERIES
WINCH HOISTS (THE VERSATILE SERIES)
Model No. 100A / 10-12 / AIR1000 / HY1 / AC36 / DC48 / 300A / 30-12 / HY3 / 800 / 510 / 520
Model 520 Shown
Features:
Worm gear reduction for positive load holding
Electromagnetic load brake for instant stopping
Rugged construction
Low-voltage, 10-ft. pendant control
Full power reversible
50% duty cycle motor
Cable tensioner for better cable tracking
Specifications:
1,500 lb. single line, 3000 lb. double line lift
Linespeed 12 FPM @ 1,500 lb. single line, first layer
Unit size & weight 115 lb. 32"L x 13"W x 11"H
The Versatile Series is available in 115 V AC, 230V Single-Phase and 230V 3-Phase, 50Hz or 60Hz.