3009 SHUTTLE OR 2-WAY CHECK VALVE
DESCRIPTION
The 3009 Shuttle Valve directs air flow from one of two possible inputs to a single output, while preventing any air flow through the second input. The 3009 consists of only one moving part, the shuttle. The shuttle shifts when the pressure on one input exceeds that on the other.
SPECIFICATIONS
Weight: .4 lbs. (192 g)
Materials: Die-cast silicon bronze and stainless steel
Operating Temperature Range: -40ºC to +90ºC
Pipe Port Size: 1/4" NPT
Flow Capacity: 1/4" Orifice Equivalent
Maximum Operating Pressure: 200 PSI (13.79 BAR)
Important: Shuttle valves must be mounted horizontally.
ORDERING INFORMATION
Order No. 3009
Description
DIMENSIONS AND PARTS
3009
ITEM
QUANTITY
PART NO.
DESCRIPTION
1
2
3009-0001
End Cap
2
1
3009-0002
Body
3
1
3009-0003
Shuttle
4
2
1106-3001
Seat
5
4
1010-0808
Screw
A Repair Kit is available, consisting of all seals.
Order No. 3007-RK.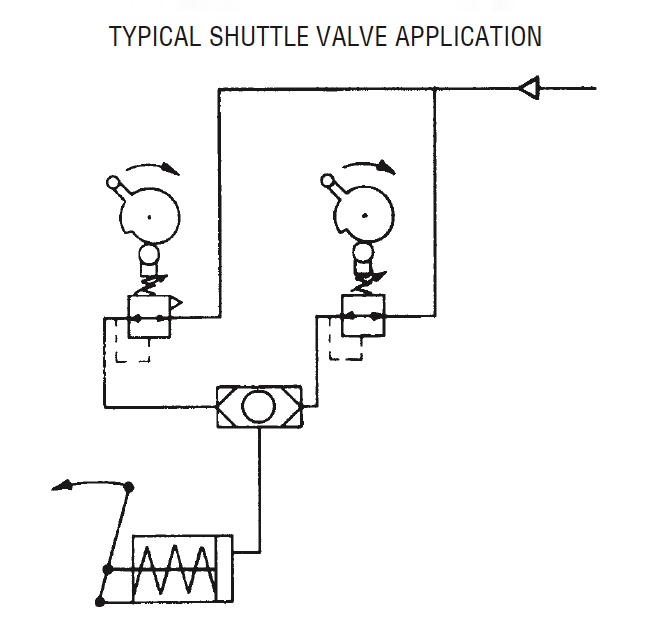 TWO-STATION REMOTE CONTROL OF ACTUATOR POSITIONER WITHOUT STATION SELECTOR CIRCUITRY
In this circuit, the station not in use must be left in the "off" position.
Note that a Shuttle Valve must be used. A simple "tee" would
not suffice, as the operating signal from one pressure control
head would pass out the exhaust port of the other.