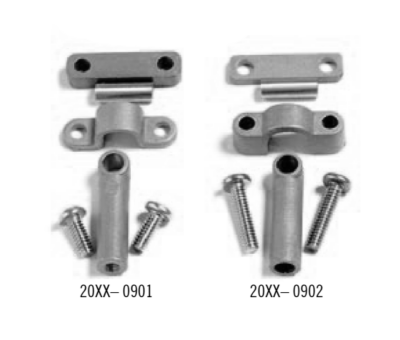 CONTROL HEAD CONNECTION KITS
These kits are designed for attaching a push-pull cable to the control head. Since cables are either 33 series or 43 series, you need to have the kit that matches the control head and the cable series being used. That's why kits are not just included with the control heads.
To order a connection kit, order either:
0901 (for 33 series cables)
0902 (for 43 series cables)
0912 (for 60 series cables; not available for all models)
The part number looks like this:
20xx-0901 where xx is the control head. e.g. 2009-0901 for a 2009 control head.
You need one kit for every cable connected to a control head. If you are running cables in "series", you will need more control head connection kits because the cable runs from control head to control head. For example, a 2 station, single engine system would use 4 connection kits for a parallel installation, but a series installation would need 6 kits.
2091 to 2094 control heads include connection kits for the 47 series "interconnecting" cable. You still need to get the -0901 or -0902 kits for the primary control head.
Connection kits are not always interchangeable. If you happen to have a kit for one control head, it probably will not work on a different model.