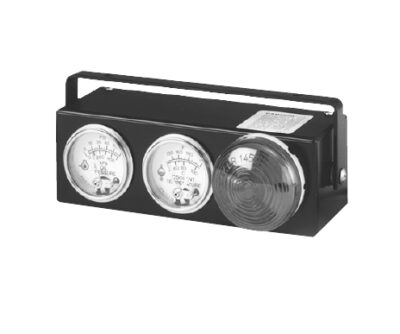 MOBILE EQUIPMENT KITS – WAI2 Panel Assembly
Enclosed panel and mounting hardware with:
• Oil Pressure SWICHGAGE®
• Coolant Temperature* SWICHGAGE®
• MINI-SIREN®
• FL3/TL2 flasher and light
• 760AF Magnetic Switch with 30 second time delay for alarm before shutdown; 12 VDC, (optional 24 V)
You get accurate engine readings and time-delayed automatic shutdowns. Flashing light and MINI-SIREN® signal a warning before the shutdown. Alarm-only panels (without shutdown capabilities) are also available. See details on opposite page. WAI kits are easy to install and function test without the need for expensive auxiliary equipment. Each is a cost competitive and effective system for engine protection.
*Temperature capillary length is standard 6 ft. (1.8 m). Specify longer lengths.