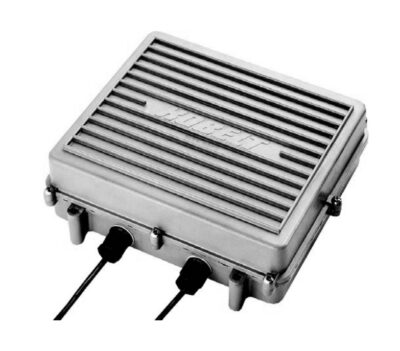 MODEL 7173-K ELECTRONIC FULL FOLLOW-UP AMPLIFIER
DESCRIPTION
This unit is designed to accept the command signal from our Models 7165, 7166, 7167, 7169, 7171, 7175 and 7176, and coordinates the desired rudder position with our feedback unit Models 7168 and 7174. Fluid flow control models 7144, 7145 and 7148 are equipped with solenoid valves and, when activated by the Model 7173-K, will disperse hydraulic fluid to the hydraulic steering system to maintain the desired position.
The device can be located anywhere aboard ship, even in the steering compartment, because of its watertight and non-corrosive enclosure that can protect the internal electronics from the effect of the environment.
Weight: 5.5 lbs (2.5 kg)
The Model 7173-K is a multi-optional driver board (12- or 24-Volt DC) which can control
1. Single speed steering system
2. Dual speed steering system
3. Two independent steering systems controlled by the same controller (This is ideal for catamaran steering because of its electronic tie bar capability)
4. Two independent hydraulic systems, i.e. steering and bucket control
It can also be easily changed in the field.