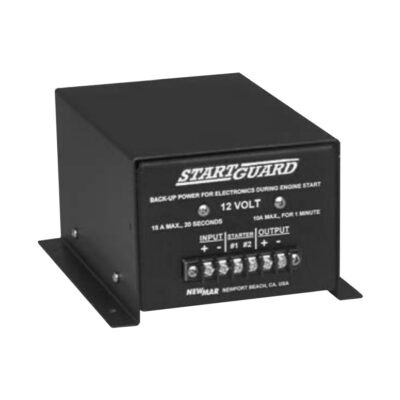 DC POWER CONDITIONERS StartGuard
Provides Voltage Protection During Engine Start
The abrupt DC system voltage drop that accompanies engine starting can cause microprocessor-based voice and data transmitters to "dump" programmed memory.
StartGuard solves this problem by providing supplemental voltage to sensitive electronics while the engine is cranked. It contains a sealed rechargeable battery which is switched online to electronics when the starter switch or solenoid is engaged. When the engine is running StartGuard automatically goes off-line and the internal battery is recharged by the alternator.
Description
Back-Up Capacity
Dimensions
Weight
Model
Input
1 Minute
2 Minutes
Inches
Centimeters
Lbs
Kg.
NS-12-20
13.8-14.8 VDC Nominal
20 amps
18 amps
8.25 x 4.9 x 3.5
20.1 x 12.5 x 8.9
5.5
2.5
15.5 VDC Max
Input Voltage: 13.8 – 14.8 VDC nominal, 15.5 VDC max.
Relay Activation Input Voltage: 7-15 VDC
Output: 20 amps max.
Battery: 12 VDC, sealed rechargeable, 5- 7 year life (typical); 5 amp-hour capacity; Certified by DOT and IATA for shipment by air.
Back-up Capacity (Fully Charged): (See matrix)