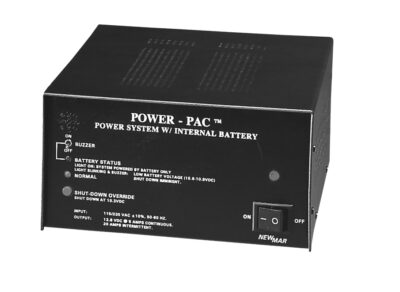 POWER SUPPLIES with built-in battery back-up – POWER-PAC
Designed for critical base stations and repeater sites that must remain "on-line", even in the event of AC power failure or brown-out which would disable conventional power supplies. The Power-Pac offers peace of mind for the system designer or base station operator This unique power supply assures that a base station can remain up and running to power communications when it is often needed most – during a power outage.
The Power-Pac's highly regulated, low ripple 10 amp output powers radios and other sensitive communications equipment without causing RF or audio interference. At the same time it float charges one or two (depending on model) built in 7 amp/hour back-up batteries. These are kept at peak charge during the normal functioning of the unit when AC is being supplied. In the event of a loss of AC power, the internal batteries automatically take over to power communication equipment, providing a true uninterruptible DC source.
Features
Highly regulated, low ripple, noise-free 12 volt output
Built-in, "on-line" stand-by battery provides immediate back-up power in case of AC power loss
Internal mounting space and terminals for conversion of 7 A/H model into 14 A/H model
Output "Normal" indicator L.E.D.
"Back-up power only" warning light
Audible and visual low battery (10.7 VDC) voltage indicators
Low battery warning buzzer mute switch
Automatic low battery (10.3 VDC) voltage disconnect
Low voltage disconnect override button
Over-voltage protection
Current limit protection
Input/output fused
Separate output terminals provided for charging external batteries
115/230 50-60 Hz input, selected by slide switch on rear panel
Description
General Specifications
Input: 115/230 VAC, 50-60 Hz.
Output: 13.6 VDC @ 5A cont., 10A Int.
Regulation: 1% line and load
Ripple: 1% P-P
Operating Temp: 0-40° C
Models
Power-Pac 7 A/H (with 7 amp/hour battery)
Power-Pac 14 A/H (with 14 amp/hour battery)
Dimensions
Inches
Centimeters
H
W
D
H
W
D
5.3
9.0
10.5
13.3
22.9
26.7
Options
External battery packs available, contact factory for information on BM Series
Also available without batteries installed; contact factory (subtract 15lbs from unit weight)