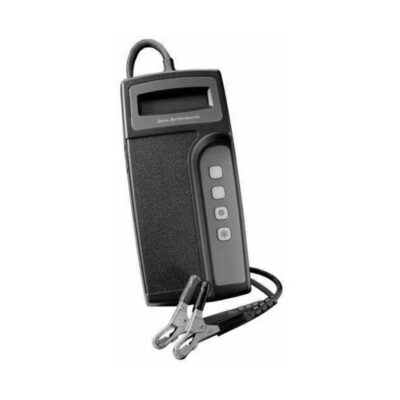 GROUNDING NOISE FILTERS – Digital Battery Analyzer
The Digital Battery Analyzer (model DBA) is an essential tool for all DC system installers, technicians and battery dealers. Simple to use, it performs a complete analysis of battery condition in mere seconds, then displays conclusive data on a large clear LCD readout.
The DBA analyzes 12 and 6 volt lead-acid, gel-cell and AGM batteries of all types with ratings from 100-1400 CCA. It provides information on battery voltage, battery condition and available battery power. This gives you empirical data to assure your customers that their batteries are fine, or to support your recommendation that they be replaced.
The unit is housed in rugged ABS plastic, yet is light-weight and compact for use in cramped battery compartments and portability in tool kits. It comes equipped with 32" polarity color-coded test leads and quick-connect clamps. The DBA indicates whether the clamps have proper contact with battery posts.
Single-battery banks or batteries connected singly in series may be tested without disconnection. Parallel batteries must be disconnected prior to testing.
No internal battery nor external AC power source is required. Clear and concise operating instructions are provided.
Features:
Analyzes 12 volt and 6 volt lead-acid batteries of all types: flooded, gel-cell or AGM; deep-cycle or gen/engine start
Simple three step test procedure provides a comprehensive analysis of batteries in seconds. (See Inset.)
No need to recharge batteries prior to testing; accurate results for batteries in any state of charge down to 5.5 volts
Uses sophisticated conductance technology; will not harm or discharge batteries
Rugged, compact, light-weight case; easy to use even in hard-to-access battery compartments
Temperature compensation setting when testing batteries below 32˚F (0˚C)
Handy water-resistant carry-case with shoulder strap provided
Description
Specifications:
Model: DBA – Digital Battery Analyzer
Battery Type: 12 or 6 VDC nominal, lead-acid (flooded, gel or AGM), deep-cycle or gen/engine start
Battery Capacity: 100-1400 CCA (Cold Cranking Amps)
Operating Range: 5.5 – 14.0 VDC
Input Power: Operates on power of battery under test, down to 5.5 VDC Display Type: LCD
Temp. Range: 32-120˚F (0-50˚C); temperature compensation provided below 32˚F
Protection: Will not be harmed by accidental reverse polarity connection Case Material: Acid resistant ABS plastic
Size: 9″ x 4″ x 2.5″
Weight: .9 lb., .4 kg.
Warranty: Two Years
Simple testing Procedure
Clip DBA leads to battery terminals
Using touch pad, select battery CCA rating from display menu. Press start test button.
In less than a minute, the unit analyzes then displays:
Battery voltage 2
Available power (in CCA)
One of the following battery condition readouts:
GOOD BATTERY
GOOD-RECHARGE
CHARGE & RETEST
REPLACE BATTERY
BAD CELL-REPLACE BATTERY