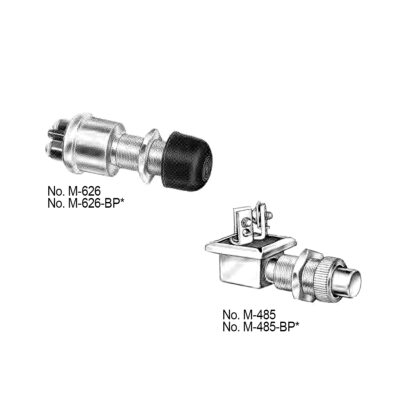 SWITCHES – Momentary Push Button Switches
• Non-corrosive construction.
• Moisture repellent insulators.
• Brass case, stem, plunger button, terminals and mounting hardware.
• Heavy duty construction for 6-36 volt, D.C. applications.
• Bright chrome plated buttons and face nuts except where noted.
• Variations available; consult factory.
Normally OFF S.P.S.T.
OFF – MOMENTARY ON
ON with button depressed, spring return to OFF
Electrical Rating: 35 amps at 12 volts, D.C. Electrical Rating: 10 amps at 12 volts, D.C.
No. M-626
No. M-626-BP*
No. M-485

No. M-485-BP*
Details below
Description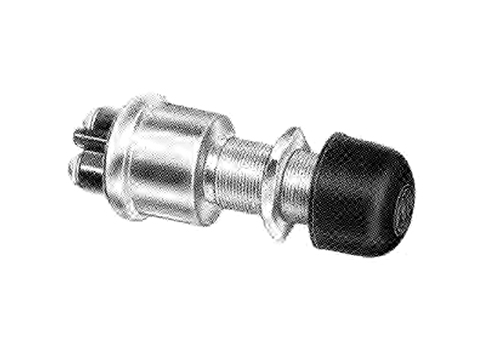 No. M-626

No. M-626-BP*
• Same as No. M-490 except with No. M-407-03 black moisture repellent cover which snaps over face nut.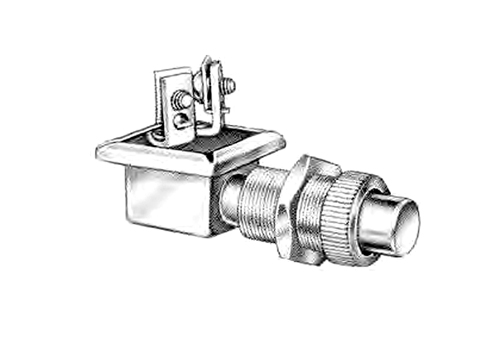 No. M-485

No. M-485-BP*
• Gasket sealed case protects against moisture and dirt.
• Mounting stem 5/8"-32, 1" (25.40mm) long.
• Fits panels up through ?" (19.05mm) thick.