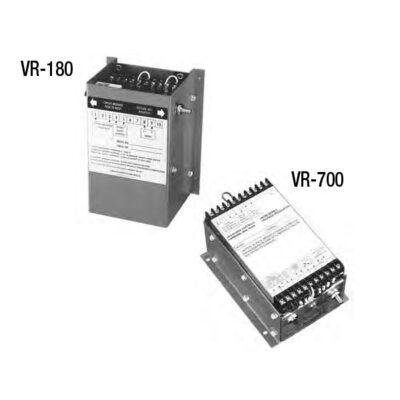 VOLTAGE REGULATORS – Gen-Power VR-108 & VR-700 Replacement
Gen-Power Controls' VR-180 and VR-700 Series Voltage Regulators are available as direct "wire-for-wire" replacements for Delco Products Voltage Regulators. Equivalent in form, fit and function to Delco Products voltage regulator models as listed on the following page, these units provide added features including better regulation, faster response, wider ambient temperature range and better mechanical characteristics.
Features & Benefits
• Voltage regulation ( 1% R.M.S.
• Less than 9 millisecond response to load change.
• Built-in over-voltage protection (VR-700 Series only).
• Built-in under-speed protection (VR-700 Series only).
• Loss-of-sensing protection.
• Solid-state voltage build-up circuit.
• Anti-hint circuitry to control transients.
• Built-in paralleling provisions.
• No relays or vibrating contacts to wear or break.
• Transient surge protection.
• Protection from adverse environments.
• 50 Hz or 60 Hz frequency selection.
• Over current protection.
Available Accessories
• Paralleling kit for applications of 600 volts or less.
• Triple action boost for very heavy motor starting.
• Manual control systems for back-up.
• Automatic under speed protection.
• Battery build-up control for fast on-line operation.
Call for details