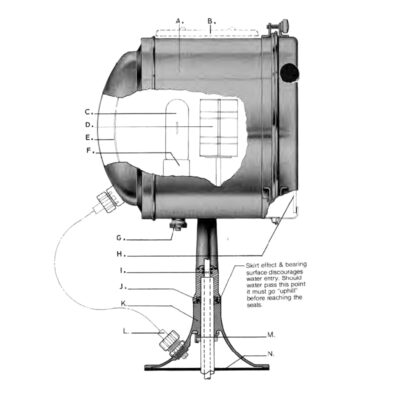 10", 12", 15" INCANDESCENT SEARCHLIGHTS
HOW TO ORDER
Specify size searchlight, type control, type base, type drum, type finish, type lampholder, and give code word or catalog number. Give ordering code and volts of lamp. Specify length of control (measured from bottom of base to centerline of lever or upper wheel) if other than the standard dimensions shown on the dimension drawings. Specify pedestal height (measured from bottom of base to centerline of drum) if different from the standard 48 inches.
Example: 12" searchlight, lever control, standard base, vented drum, enamel finish, medium prefocus lampholder, code RECITE-E2. Special length control 22" base to centerline lever. Two lamps code BTR 120 volts.
To designate the specific lampholder desired add one of the following suffixes to the code word or catalog number.
Medium Screw Lampholder —1
Medium Prefocus Lampholder —2
Mogul Screw Lampholder —3
Mogul Bipost Lampholder —4
2-Pin Prefocus Lampholder —5
Call Timco to Order
Description
A. Available in Three Beautiful External Finishes: white enamel polished brass, or polished chrome. Interior finished with heat resistant flat lack paint.
B. Vented Drum Available for 12" and 15" searchlights allowing use of 1000 watt lamps.
C. Many Lamp Types accommodated. See listing on page 3.
D. Metal Louvers eliminate front spill light.
E. High Quality Silvered Glass Reflector efficiently concentrates light into a powerful beam.
F. Choice of Lampholders
| | | | | |
| --- | --- | --- | --- | --- |
| | | 10″ | 12″ | 15″ |
| 1 | Medium Screw | Yes | Yes | Yes |
| 2 | Medium Prefocus | *Yes | *Yes | *Yes |
| 3 | Mogul Screw | No | Yes | Yes |
| 4 | Mogul Bipost | No | No | Yes |
| 5 | 2-Pin Prefocus | Yes | Yes | Yes |
* Supplied as standard if lampholder not specified.
G. External Focus Control permits changing beam from spot to flood with lamp operating, without the use of tools.
H. Heat-Tempered Cover Glass and tight sealing door gasket provide maximum protection for drum interior.
I. Double seals around control shaft prevent leakage to pilot house. Lubricated for life.
J. Seal between base and yoke. Lubricated for life.
K. Standard, High, or Pedestal Bases available with any control type except DMC which is available only with standard base. Special heights (measured from bottom of base to centerline of beam) for pedestal base searchlights may be specified at extra charge.
L. Heavy Duty Three-Conductor Flexible Cable extends approximately two feet below water-tight stuffing tube in base. Third conductor grounded. Longer cable can be supplied at extra charge.
M. Sliding Stop allows horizontal rotation in excess of 360°. Supplied on all models except Local Control and DMC.
N. Base Gasket optional at extra charge.
NEW!
Medium Prefocus Lampholders on 12 and 15-inch searchlights have unique Shock Absorbing Base Design, which helps prevent lamp filament damage due to excess vibration and shock impact.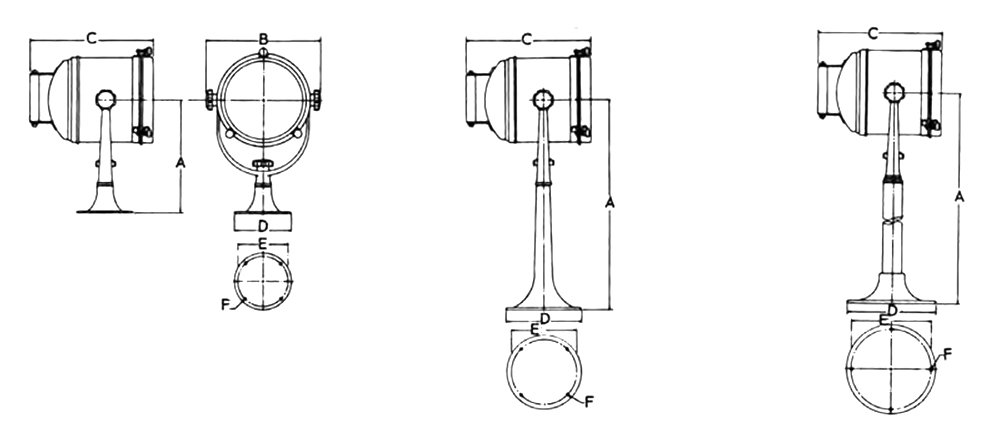 Fig. 1 Local Control Standard Base
| SIZE | A | B | C | D | E | F |
| --- | --- | --- | --- | --- | --- | --- |
| 10″ | 12-3/4 | 13-1/8 | 12 | 6-3/8 | 5-5/8 | 11/32 |
| 12" | 15-15/16 | 15-5/8 | 15 1/2 | 8 1/4 | 7 3/8 | 13/32 |
| 15" | 19-7/8 | 18-7/8 | 16 7/8 | 8 1/4 | 7 3/8 | 13/32 |
Fig. 2 Local Control High Base
| SIZE | A | C | D | E | F |
| --- | --- | --- | --- | --- | --- |
| 10" | 23 5/8" | 12 | 8 3/8 | 7 3/8 | 13/32 |
| 12" | 25 9/16" | 15 1/2 | 8 3/8 | 7 3/8 | 13/32 |
| 15" | 29 1/2" | 16 7/8 | 8 3/8 | 7 3/8 | 13/32 |
Fig. 3 Local Control Pedestal Base
| SIZE | A | C | D | E | F |
| --- | --- | --- | --- | --- | --- |
| 10" | 48 | 12 | 10 | 8 7/8 | 13/32 |
| 12" | 48 | 15 1/2 | 10 | 8 7/8 | 13/32 |
| 15" | 48 | 16 7/8 | 10 | 8 7/8 | 13/32 |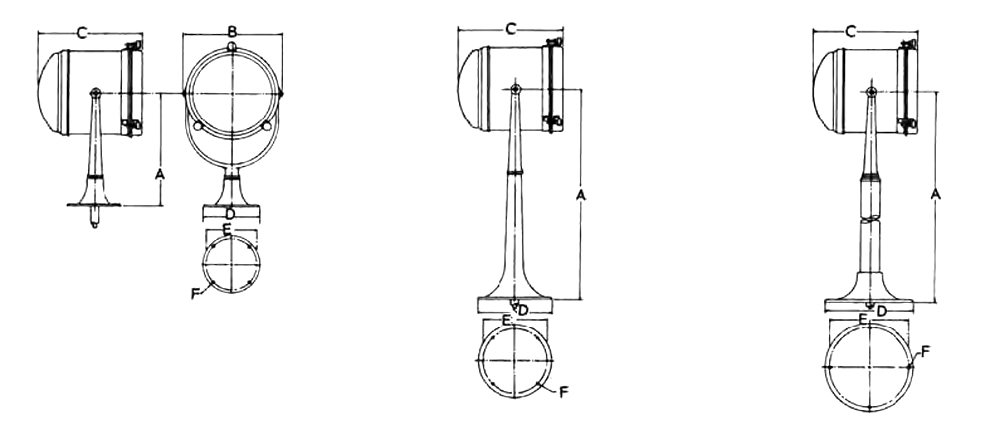 Fig. 4 Manual Controls Below Standard Base
| SIZE | A | B | C | D | E | F |
| --- | --- | --- | --- | --- | --- | --- |
| 10" | 12 3/4 | 11 | 10 | 6 3/8 | 5 3/8 | 11/32 |
| 12" | 15 15/16 | 13 1/2 | 13 1/4 | 8 1/4 | 7 3/8 | 13/32 |
| 15" | 19 7/8 | 16 3/4 | 14 7/8 | 8 1/4 | 7 3/8 | 13/32 |
Fig. 5 High Base Manual Controls Below
| SIZE | A | C | D | E | F |
| --- | --- | --- | --- | --- | --- |
| 10" | 23 5/8 | 10 | 8 3/8 | 7 3/8 | 13/32 |
| 12" | 25 9/16 | 13 1/4 | 8 3/8 | 7 3/8 | 13/32 |
| 15" | 29 1/2 | 14 7/8 | 8 3/8 | 7 3/8 | 13/32 |
Fig. 6 Pedestal Base Manual Controls Below
| SIZE | A | C | D | E | F |
| --- | --- | --- | --- | --- | --- |
| 10" | 48 | 10 | 10 | 8 7/8 | 13/32 |
| 12" | 48 | 13 1/4 | 10 | 8 7/8 | 13/32 |
| 15" | 48 | 14 7/8 | 10 | 8 7/8 | 13/32 |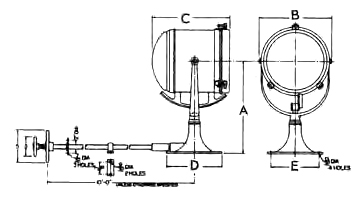 Fig. 10 Distant Mechanical Control (DMC)
| SIZE | A | B | C | D | E |
| --- | --- | --- | --- | --- | --- |
| 10" | 14 3 16 | 11 | 10 | 8 1/2 | 7 3/8 |
| 12" | 16 1/8 | 13 1/2 | 13 1/4 | 8 1/2 | 7 3/8 |
| 15" | 20 1/16 | 16 3/4 | 14 7/8 | 8 1/2 | 7 3/8 |
| (BELOW) | | | | | |

Fig. 7 Lever Control
| SIZE | G |
| --- | --- |
| 10" | 11 3/8 |
| 12" | 10 7/8 |
| 15" | 10 7/8 |
Fig. 8 Lever/Gear Control
| SIZE | G |
| --- | --- |
| 10" | 11 3/8 |
| 12" | 10 7/8 |
| 15" | 10 7/8 |
Fig. 5 High Base Manual Controls Below
| SIZE | G |
| --- | --- |
| 10" | 9 1/2 |
| 12" | 9 |
| 15" | 9 |
Additional information
| Attribute | Information |
| --- | --- |
| Size | 10" INCANDESCENT SEARCHLIGHT, 12" INCANDESCENT SEARCHLIGHT, 15" INCANDESCENT SEARCHLIGHT |
Accessories & Parts
| Description | 10″ | 12″ | 15″ |
| --- | --- | --- | --- |
| Cover, Protective | SL3322A | SL3322A | SL3322B |
| Cover Glass | SL62 | SL102 | SL1085 |
| Gasket, Base, DMC | SL3318B | SL3318B | SL3318B |
| Gasket, Base, High | SL3318B | SL3318B | SL3318B |
| Gasket, Base, Pedestal | SL3318C | SL3318C | SL3318C |
| Gasket, Base, Standard | SL3318A | SL3318B | SL3318B |
| Lampholder, Med. Pref. | SL1250C | SL1250C | SL1250C |
| Lampholder, Med. Screw | SL1087-1 | SL1087-1 | SL1087-1 |
| Lampholder, Mogul Bip. | — | — | FE132X |
| Lampholder, Mogul Screw | — | SL96 | SL96 |
| Lampholder, 2-Pin Pref. | 8704 | 8704 | 8704 |
| Reflector | SL1083A | SL107 | SL1084 |