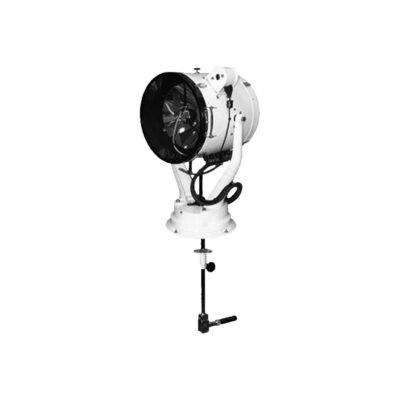 1000 WATT XENON ELECTRIC CONTROL SEARCHLIGHT
Model # XE9666-RF is shown with the optional NF14400X-19 NightFINDER™
United States Coast Guard Approved Searchlight for Marine Applications
FEATURES:
80 Million Beam Candlepower… Powerful Beam services a distance of approximately 5 Miles on a clear night!
Remote Electric Beam-Size Focus… Beam can be instantly narrowed or widened, with remote electric switch, throughout a continuous spectrum, on demand.
Advanced Proportional Speed Joystick… Beam-Speed and Beam-Direction are controlled simultaneously with one hand, while operator uses free hand to steer vessel or hold binoculars… "move the Joystick to the first position and it will move slowly… move it further and it speeds up!"
Optional NightFINDER Camera… Quickly see in total darkness by using the aiming platform of the searchlight to direct the camera, then turn on the searchlight to further identify the object.
Fast Searching Capability… Beam-speed is approximately 30 degrees per second, providing a quick and accurate search.
Manual Focus Back-up Knob … External Knob changes changes the Beam-Size with no tools, if Focus Motor Fails.
Beyond Full Circle of Rotation… Unique Sliding-Stop Design allows 385 Degrees horizontal motion.
Anti-corrosive Design… Marine Grade Aluminum and Stainless Steel with High Quality Salt-Resistant Powder Coat Finish.
Optional Azimuth Indication… LCD Display provides digital read out in Degrees for Horizontal Motion.
Optional IR Filter…Attach the IR Filter to the searchlight and enhance your night vision capabilities when using your night vision equipment by increasing the amount of available IR on the target.
Optional Anti-Icing Heaters… Used in colder climates to help prevent ice from forming on searchlight components that move.
Description
Powerful Searchlight for Marine Applications
This "USCG-Approved Fixture", with assigned "U.S. Military National Stock Number" (NSN: 6220-01-331-5923).
This Powerful, Rugged Design, composed of Marine Grade Aluminum and Stainless Steel, with a High Quality Salt and Scratch-Resistant Powder Coat Finish. The Indestructible, Nickel Reflector produces a precision 1-Degree Beam at a Powerful 80 Million Beam Candlepower. The Searchlight Focus has Safety Back-up, with no tools required (if the Focus Motor fails, the Beam-Size can be adjusted quickly and easily, with an external focus knob). The Searchlight is mounted on a rugged base, which includes ball bearings held captive within stainless steel races, producing greater than 385 Degrees of Horizontal Rotation with unique sliding stop. Top Beam-speed is a rapid 30 Degrees per second.
The Advanced Joystick changes the Beam-Speed and Beam-Direction simultaneously, requiring only one hand of operation (this technology eliminates a separate speed dial which requires two hands of operation!). Each control station will provide Remote Electric Beam-Size Focus, Beam-ON/OFF Control, Beam-ON Indication Light and the Advanced Joystick which controls Beam-Speed and Beam-Direction concurrently, using only one hand of operation!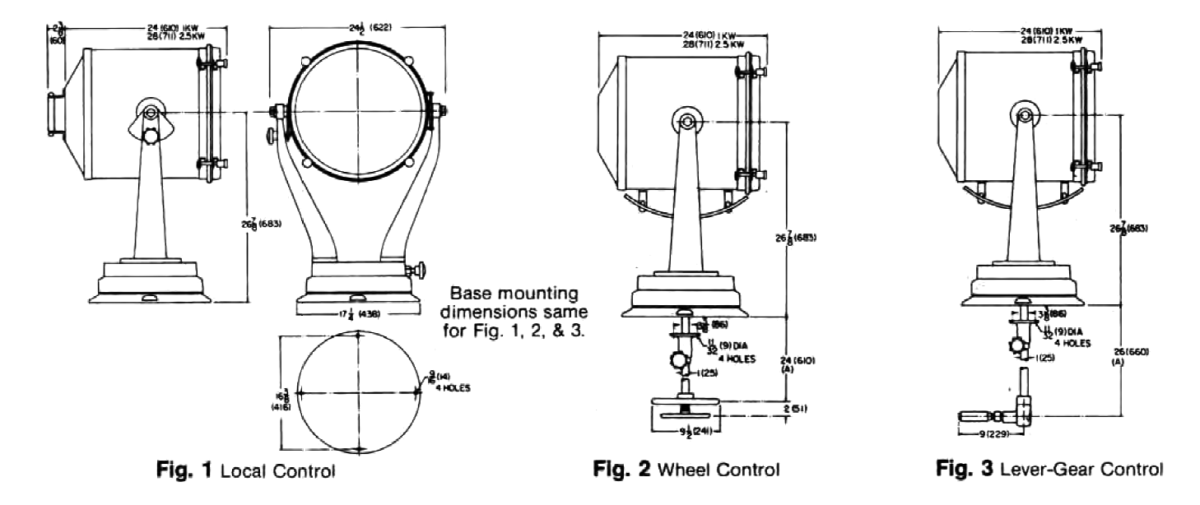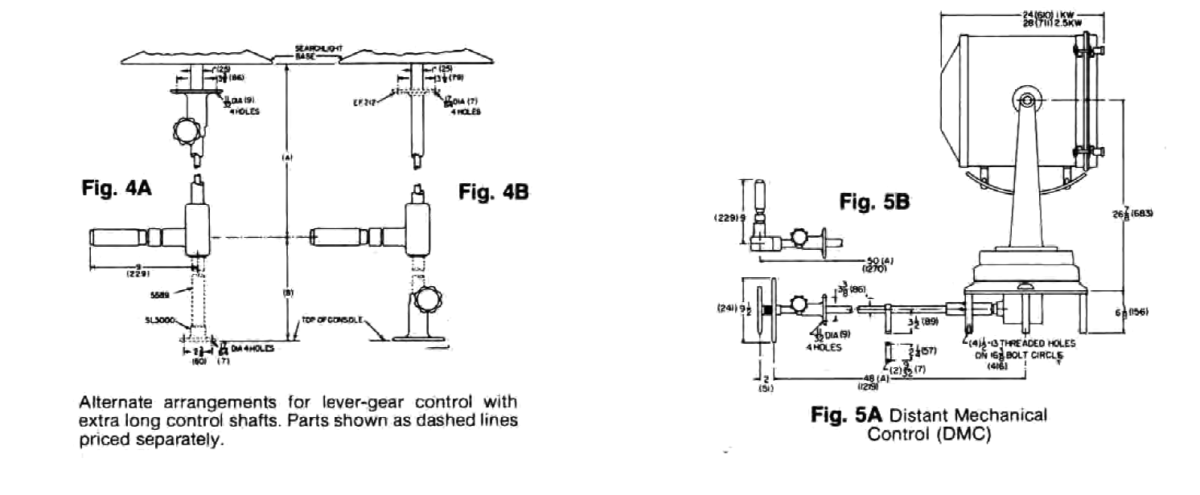 SEARCHLIGHT SELECTION TABLE
Control
1KW Searchlight
2.5KW Searchliaht
Cat. No.
Wt. lbs. (kg)
Cat. No.
Wt. lbs. (kg)
Net*
Shipping*
Net*
Shipping*
Local
Fig. 1
XE9663
115(52)
185(84)
XE5202
145(66)
215(98)
Wheel
Fig. 2
XE9664W
130(59)
200(91)
XE5203
160(73)
230(104)
Lever-Gear
Fig. 3
XE9664LG
130(59)
200(91)
XE5203LG
160(73)
230(104)
Distant Mechanical
Wheel
Fig. SA
XE9665W
175(79)
250(114)
XE5204W
205(93)
280(127)
Lever-Gear
Fig. 58
XE9665LG
175(79)
150(114)
XE5204LG
205(93)
280(127)
Distant Electric (DEC)
Fig. 7
XE9666
155(70)
130(104)
XE5205
185(84)
260(118)
Additional information
| Attribute | Information |
| --- | --- |
| Anti-Icing Heater | NONE, H (optional) |