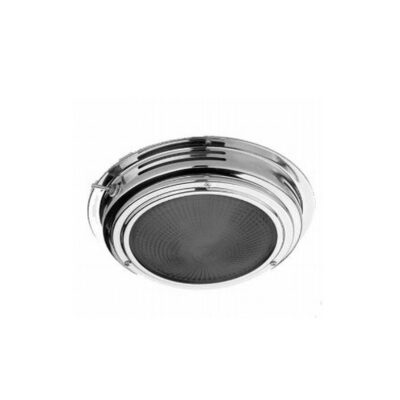 NAVIGATION STATION DOME LENSES
The heavy duty clear patterned glass lenses are designed to flood your area of work for proper illumination. Both red and clear bulbs are included – choose between bright white for daylight running or dockside, and red light for nighttime navigating. The lights are completely wired with two switches and 12-volt double contact stainless bayonet sockets. The 10-watt lamps draw 3.5 amps. Base diameter ia 6-3/4"; lens diameter is 4-3/8".
#24018 Stainless Steel
#24019 Solid Brass
DOME LIGHTS
Dome lights are useful in a wide variety of applications aboard – companion ways, storage lockers and cabins. The glass dome lens diffuse the light, making them ideal for moderate illumination throughout the boat's interior. Our stainless steel dome lights feature built in toggle switches and include a clear bulb. Sized to suit your boat's lighting needs.
| Model | Base Dia. | Watts | Amps | Lens Dia. | Wt. |
| --- | --- | --- | --- | --- | --- |
| 14006 | 4-3/8" | 5 | 0.4 | 3.0" | 7oz. |
| 24010 | 5-1/2" | 10 | 1.5 | 4.0" | 10oz. |
| 24014 | 6-3/4" | 10 | 1.5 | 5.0" | 11oz. |