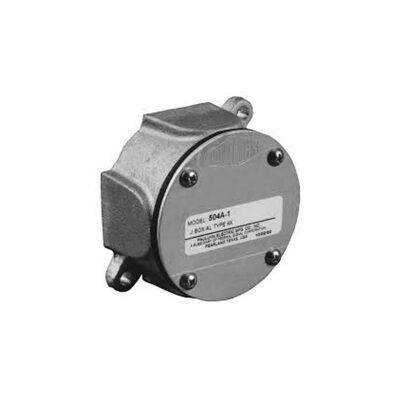 PROJ-BX-504
FEATURES
Surface mounted round junction boxes.
Heavy wall construction.
Cast marine brass or copper free aluminum construction.
One piece gasket provides a watertight seal.
Two heavy duty mounting pads.
Suitable for field drilling and tapping.
Internal grounding lug with cup washer for stranded wiring.
APPLICATIONS
Marine and watertight requirements
APPROVALS
See below for Part Number details
Description
TECHNICAL SPECIFICATIONS
BOX/COVER
| Box | Cover |
| --- | --- |
| Cast marine brass | Half hard yellow brass |
| Copper free aluminum | 5052H32 aluminum |
HARDWARE
Stainless steel.
ENTRIES
Standard units undrilled. Up to 11⁄2" NPT. See ENTRY OPTIONS for selections.
MOUNTING
Surface, via two mounting bolts (not included).
518 & 504 1⁄4" maximum
527 & 545 5⁄16" maximum
GASKET
518 & 504 one piece neoprene
527 & 545 one piece silicone
Ordering Preferences
| BRASS | DIMENSIONS | WEIGHT LBS |
| --- | --- | --- |
| 504B | 3" Ø x 11⁄2" | 1.8 |
| 518B | 21⁄2" Ø x 11⁄2" | 1.3 |
| 527B | 4" Ø x 2" | 3.5 |
| 545B | 4" Ø x 3" | 5.3 |
| ALUMINUM | DIMENSIONS | WEIGHT LBS |
| 504A | 3" Ø x 11⁄2 | 0.7 |
| 527A | 4" Ø x 2" | 1.4 |
| 545A | 4" Ø x 3" | 2.2 |
Entry Options
| Versions | NPT Trade Size | Dead End | Thru Feed | 90 Degree | X-Positions |
| --- | --- | --- | --- | --- | --- |
| 504/518/527/545 | 1/2" | E1 | C1 | L1 | X1 |
| 504/527/545 | 3/4" | E2 | C2 | L2 | X2 |
| 527/545 | 1" | E3 | C3 | L3 | X3 |
| 545 | 1 1/2" | E5 | C5 | L5 | X5 |