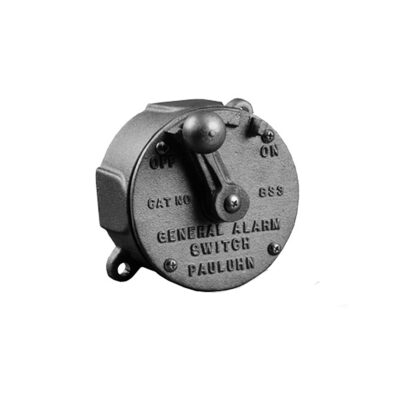 PROXCHANGE 833-834
FEATURES
Single throw double pole snap switch.
Cast marine brass construction.
Neoprene gasket resists petroleum and provides a watertight seal.
Heavy duty mounting pads.
Silicone lubricant provided for cover screws and flange.
Available in 15 or 20 Amp units.
APPLICATIONS
Alarm/warning indication
Marine and watertight requirements
APPROVALS
See below for Part Number details
Description
TECHNICAL SPECIFICATIONS
BOX/COVER
Cast marine brass.
SWITCH STEM
Free machining brass.
HARDWARE
Stainless steel.
GASKET
One piece neoprene.
ENTRIES
Standard units undrilled. Up to four 3⁄4" NPT outlets available. See ENTRY OPTIONS for selections.
SWITCHES
Spring loaded double pole single throw.
VOLTAGE AND CURRENT
833:
15 Amp 125v AC
10 Amp 24v DC
2 Amp 125v DC
834:
20 Amp 600v AC
15 Amp 24v DC
5 Amp 125v DC
MOUNTING
833/834
Surface, via two 11⁄32" mounting bolts (not included).
833F/834F
Flush, via four 5⁄16" mounting bolts (not included).
Ordering Preferences
| PART NUMBER | DESCRIPTION | WEIGHT LBS |
| --- | --- | --- |
| 833 | 15 Amp 120v AC Surface Mount | 5.0 |
| 834 | 20 Amp 600v AC Surface Mount | 6.0 |
| 833F | 15 Amp 120v AC Flush Mount | 5.0 |
| 834F | 20 Amp 600v AC Flush Mount | 6.0 |
Entry Options
| NPT Trade Size | Dead End | Thru Feed | 90 Degree | X-Positions |
| --- | --- | --- | --- | --- |
| 1/2" | E1 | C1 | L1 | X1 |
| 3/4" | E2 | C2 | L2 | X2 |