BRONZE AIR-SEAL STUFFING BOXES
FOR 1/2" TO 15" IN. DIAMETER SHAFT SIZES
The new improved "Air-Seal" stuffing boxes, designed by Johnson Rubber Company, permit complete change of packing without dry docking of vessel. The "Air-Seal" ring design with exclusive "Positive Retraction" feature, is incorporated in standard size stuffing boxes (size 3" and up) with provisions for water service, grease service, or combination water and grease service as a unique design feature.
The exclusive "Bi-Stable" concave-convex design of the Johnson Air Seal Ring permits continuous inflation-deflation cycles without distending the inner rubber wall. When ring is deflated, the journal contract surface "retracts" to the original concave configuration away from journal while remaining perfectly smooth. No wrinkles develop to cause wearing contact against rotating shaft.
NOTE: PACKING NOT SUPPLIED
Description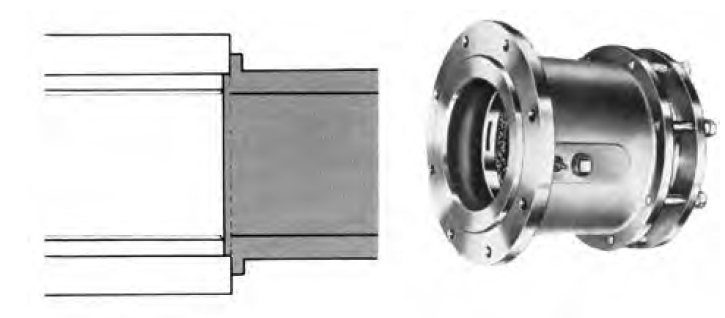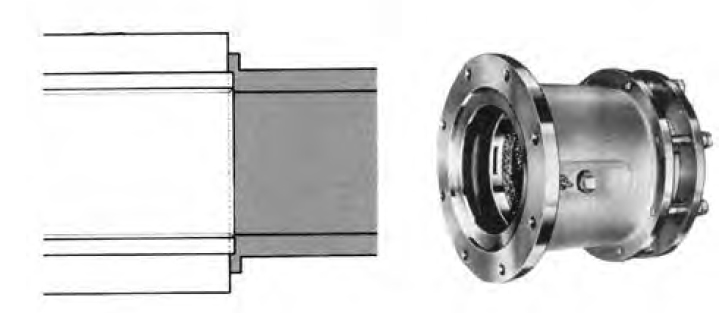 Flange Configurations – For Mating With Stern Bearings
Female Recess – For use where a flange-type forward stern tube bearing with a male boss is mated with the stuffing box. Models shown on opposite page may be ordered with a female recess precisely machines to fit the male pilot of the bearing flange. The two flanges when joined thus form a solid unit insuring alignment.
Male Pilot – When specified for use with Johnson demountable rubber stave bearing at the forward stern tube position, stuffing box flange has a machined male pilot which fits into the stern tube, thereby compressing bearing staves and locking them in place. This flange is called out for the Johnson DBA-2 Forward Stern Tube Demountable Bearing/Stuffing Box Assembly. Where a forward demountable bearing is used, the male pilot flange assures alignment with the stern tube.
Flanges are drilled unless otherwise specified.