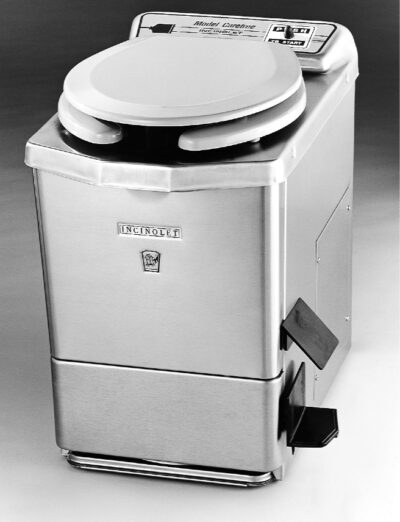 INCINOLET ELECTRIC TOILET SYSTEM
When you push the start button, heater and blower both come on. Heater alternates off and on for an hour. Blower stays on for an additional 30 to 55 minutes. YOU CAN USE INCINOLET ANY TIME DURING THE INCINERATION CYCLE. Push start button after each use.
YOU SHOULD INCINERATE WASTE AFTER EACH USE. ACCUMULATED WASTE, PARTICULARLY SOLIDS, RESULTS IN ODOR AND CAN REDUCE LIFE OF THE HEATER.
If INCINOLET is used primarily in the morning, with little or no use during the day, then reset the timer to 1-1/2 or 2 hours to insure complete incineration.
Preparing Vent-Line
Vent pipe can run horizontally or vertically. Venting materials can be placed within a wall and INCINOLET can be placed close to a wall at the back. Allow 6 to 8 inches on the right side (facing the toilet) to operate the foot pedal.
Vertical vent-line should terminate with a rain cap. For horizontal venting use a dryer flap or add a PVC elbow turned downward to prevent back-drafting.