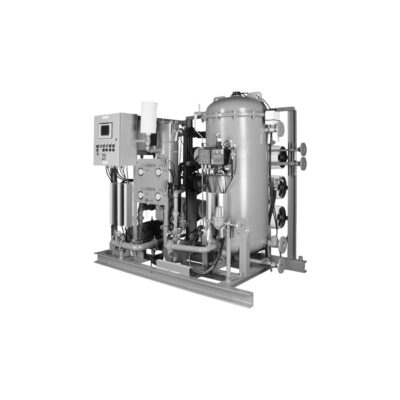 ULTRA-SEP AUTOMATIC
Drawing on our quarter of a century of design and development leadership, the ULTRA-SEP Automatic sets a NEW standard for oily water separators and performance. ULTRA-SEP Automatic maintains peak performance with a regular automated cleaning schedule, pre-programmed and controlled from the ULTRA-SEP Control Panel. The system uses pressure logic and/or pre-set timers to perform both routine cleaning and periodic deep cleaning. The programmable logic controller(PLC) allows users to adapt to the parameters of operating conditions and to the con1position of bilge water. This automatic operation eliminates crew involvement. l'he ULTRA-SEP Automatic includes all the features of our standard ULTRA-SEP with the addition of:
– Integrated membrane cleaning solution tank
– Cleaning solution injection pun1p – Automatic HELI-SEP® solids dump valve
Currently available for ULTRA-SEP Systems with 2.0 1113/h to 10 .0 m3/h capacity.
The AutoClean Module Upgrade Option
Boost performance and minimize crew involvement by adding automatic SPIR-O-LA'foR® Membrane cleaning and solids dumping to your standard ULTRA-SEP system. The compact module easily fits through doorways and hatches, allowing upgrading while underway, without disrupting other activities. Simple piping, simple electrical hookups and pre-programmed software update for controls.
ULTRA-SEP Auto Clean is now available as an upgrade to your existing ULTRA-SEP
Description
Model No

Capacity

Length L

Width W

Height H

Weight

Oily Water Inlet

Oil Outlet

Clean Water Inlet

Processed Water Outlet Discharge

Processed Water Outlet Recirculate

Power

m³/h (GPM)

mm (IN)

mm (IN)

mm (IN)

Kg (LBS)

mm (IN)

mm (IN)

mm (IN)

mm (IN)

mm (IN)

kW

US-500

0.5 (2.2)

890

760

1525

243

25 (1.0)

25 (1.0)

25 (1.0)

25 (1.0)

25 (1.0)

3

(35)

(30)

(60)

(536)

US-1000

1.0 (4.4)

965

890

1525

243

25 (1.0)

25 (1.0)

25 (1.0)

25 (1.0)

25 (1.0)

4

(38)

(35)

(60)

(536)

US-2000

2.0 (8.8)

1830

1320

1670

625

40 (1.5)

25 (1.0)

25 (1.0)

25 (1.0)

25 (1.0)

8.6

(72)

(52)

(66)

(1380)

US-3000

3.0 (13.2)

1830

1320

1670

690

40 (1.5)

25 (1.0)

25 (1.0)

25 (1.0)

25 (1.0)

8.6

(72)

(52)

(66)

(1525)

US-5000

5.0 (22.0)

2640

1420

1880

863

50 (2.0)

25 (1.0)

25 (1.0)

25 (1.0)

25 (1.0)

8.8

(104)

(56)

(74)

(1902)

US-7500

7.5 (33.0)

2640

1815

1995

1430

50 (2.0)

25 (1.0)

25 (1.0)

50 (2.0)

50 (2.0)

12.5

(104)

(71.5)

(78.5)

(3150)

US-10000

10.0 (44.0)

2640

1815

1995

1535

50 (2.0)

25 (1.0)

25 (1.0)

50 (2.0)

50 (2.0)

12.5

(104)

(71.5)

(78.5)

(3380)