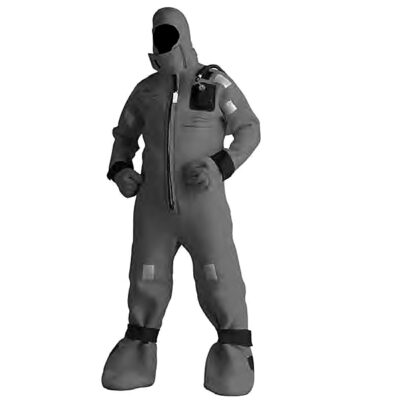 IMMERSION SUITS – Cold Water Immersion Suit
I590
When lives are at stake, more maritime professionals worldwide rely on the Stearns® 1590 Cold Water Immersion Suit than any other immersion suit brand. Made with 5mm stretchable, flame-retardant Neoprene, the Stearns® 1590 provides quality anti-hypothermia protection.
• Face shield for spray protection.
• Insulated, attached five-finger gloves for dexterity.
• Inflatable head support.
• Light pocket to fit most brands of approved lights.
• Exceeds specifications for hypothermia protection.
• Features face seal and flap, five-finger attached gloves, water proof zipper and neoprene light pocket.
• Wrist and ankle adjustments.
• SOLAS-grade reflective tape and SOLAS whistle.
• Durable non-slip soles.
• All sizes provide a generous fit for easy donning.
Size: Child, Adult Small, Adult Universal, Oversize, each in their own color-coded storage bag (see below).
Color: International Orange
Approval: I590 – USCG Type V; I590-MED (without inflatable head support) – European MED and complies with SOLAS 74/96 (contact TIMCO for specific country approvals).
Color-coded Storage Bags