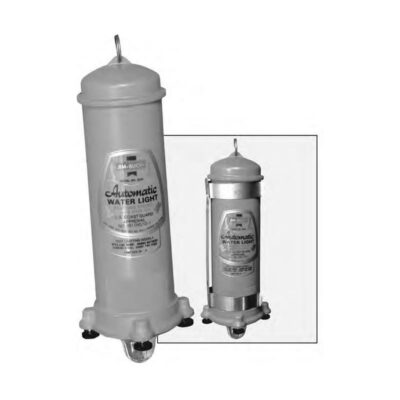 MAN OVERBOARD STROBE LIGHT
USCG APPROVED (#161.010/12/0)
Toughest construction – yet relatively small and lightweight! Made from injection molded plastic that is almost indestructible
 #1820 Man Overboard Light – Merely pick it up and point; it starts automatically – When the Man Overboard Light is thrown overboard the light automatically commences to flash a bright, flashing strobe light visible for miles! Not only a great aid for the searcher, but aids the per-son overboard to find a life ring or horseshoe buoy. Features the most advanced solid state circuit technology available today to provide years of reliable service. Extensively tested to with stand 90-ft. drops into the ocean and 3-ft. drops directly on the lens case onto cement! Additional tests were conducted by subjecting it to the most extreme conditions of humidity, temperature and exposure. In all tests the light continued to function perfectly. Simplified system uses just four Alkaline 'D' batteries that are available everywhere and are as easy to change as flashlight batteries
(batteries not included).
Available in orange only. Boxed individually in a 6-pack master carton; ship. wt. 13 lbs. IMPORTANT: Latest Coast Guard regulations require that almost all vessels carry either a fire flare or S.O.S. battery light with an S.O.S. flag.
#1821 Stainless Steel Rack – ideal for handy lights to rage at a very nominal cost. Model #1821 – 6 per ctn.; ship. wt. 6 lbs.