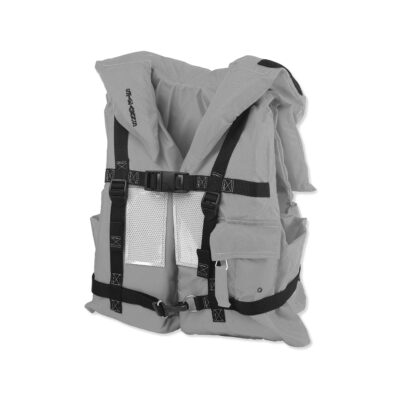 WORK VESTS – Merchant Mate II™
I600
Non-reversible vest-style PFD designed for comfort and performance. Aquafoam™ flotation foam provides a minimum of 22 lbs. (98 Newtons) of buoyancy.
• Offshore life jacket with encircling body belt.
• Foam-filled collar for additional head support.
• Hinged back panel.
• Heavy-duty 210 Denier nylon shell and lining.
• 62 sq. in. (400 sq. cm.) of SOLAS-grade reflective panels.
• Two chest adjusters for improving flotation angle.
• Special opening on back to accommodate most brands of fall protection harnesses.
• Velcro® patch on shoulder of vest to mount light for best visibility.
• Features a USCG-accepted whistle, with pocket for whistle and light storage.
Size: Adult Universal
Color: International Orange
Approval: USCG Type I
Also available without pocket and fall protection.