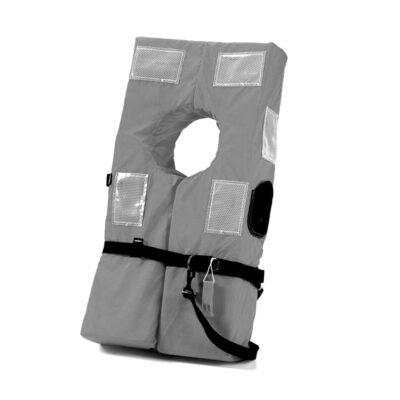 WORK VESTS – Ocean Mate I
I110/I111
Type I floatation device complying with SOLAS 74/83 requirements. Features a minimum of 35 lbs. (150 Newtons) of buoyancy.
• Reversible offshore life jacket.
• Designed for quick donning.
• SOLAS-grade reflective panels.
• Stackable for easy storage.
• Heavy-duty stainless steel hardware.
• Attached SOLAS whistle.
Sizes: Adult I110 over 75 lbs. (34kg); Child I111 less than 90 lbs. (41 kg) provides minimum of 18 lbs. (80 Newtons) of buoyancy.
Color: International Orange
Approval: USCG Type I, complies with SOLAS 74/83 (I110 SOL and I111 SOL model non-reversible life jackets comply with SOLAS 74/83 only). Contact TIMCO for specific country approvals.