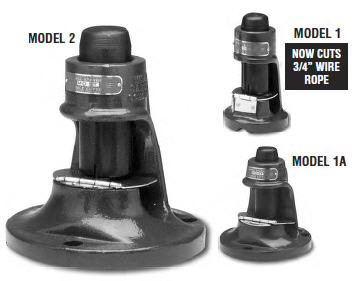 WIRE ROPE CUTTERS
WIRE ROPE CUTTERS
Model No. 1 / 1A / 2
THE Finest Quality Hammer-Type Cable Cutters
Here are the original portable impact cutters, invented by Morse-Starrett, and designed for one purpose: to cut wire rope. Actuated by striking with a hammer, they are simple to operate, and do a superior cutting job with only a few blows.
These cutters are precision engineered to deliver a cut without affecting the original roundness of the wire rope. The blades and dies are made of the best tool steel available, heat treated and ground to close tolerances. No other similar product matches M-S quality of material and workmanship.
WARNING: Wear safety goggles, use cable bands and read instruction sheet before using this tool.
For Cutting Wire Rope:
Up to 5/8" –  Model 1 designed for occasional on-the-job-cutting
Up to 1 1/16" – Model 1A
Up to 1 1/2" – Model 2
GUARANTEE: Morse-Starrett guarantees to replace – free of charge – any tools or parts that do not meet its specifications in material or workmanship. Performance guaranteed.
OTHER QUALITY CUTTERS FROM MORSE-STARRETT:
Manually Operated, HYDRAULIC Wire Rope Cutters
Power Operated, HYDRAULIC Wire Rope Cutters
Power Operated, PRESTRESSED CONCRETE STRAND, RE-BAR AND CHAIN CUTTERS.
Description
ALWAYS DEPENDABLE THE STANDARD TOOL USED THROUGHOUT THE WORLD