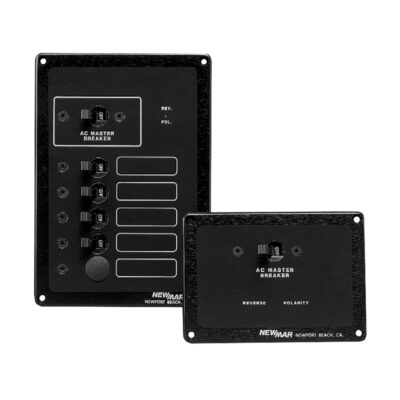 ELECTRICAL PANELS – AC Master Panels
Essential control/protection whenever AC from shorepower or generators is on board. A double pole master breaker with power on indicator light protects both hot and neutral legs of the AC circuit. A reverse polarity light provides clear warning when wiring is reversed and poses a shock hazard. Single pole branch circuit breakers (Model AC-IX) and individual "ON" indicator lights provide control and protection of various AC loads. For 115/230 VAC applications – see ratings note. A label set of common on-board circuits is provided.
AC-IX: 30 amp master breaker (15A or 50 A* optional), 5 branch circuit capacity 4 installed standard 1-10A, 2-15A, 1-20A, or specify. LS-I Label set included. Panel size: 5 1/4″ x 7 1/2″, (13.3 X 9.5 cm.,) Weight: 2 lbs., (.9 Kg.)
AC-II: 30 Amp master breaker (15A or 50A* optional). Panel size: 5 1/4″ x 3 3/4″ (13.3 X 9.5 cm.), Weight: 1 lb (.5 Kg.)
*50A option rating note: OK for use on 230 VAC line-to-line systems. Not rated for 230 VAC line-to-neutral systems.
Description
Installation Cut-Out Dimensions
AC-IX 4 X 6 in (10.2 X 15.2 cm)
AC-II 4 X 2.5 in (10.2 X 6.4 cm)
Alternate Circuit Breaker Amperage Ratings
Changing circuit breaker value mix or location for any panel shown on these pages is no problem! Simply advise us of the breaker arrangement you need. (Panel specific illustrated order forms listing all options are available at www.newmarpower.com.) Please allow 3-5 days additional lead time to complete the modification. Note: There is a modification fee for special configurations – contact factory.