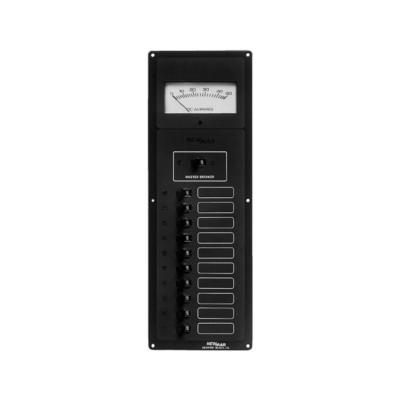 ELECTRICAL PANELS – ES-6 DC Load Center
Features:
Accommodates one meter; analog standard. (DC 0-50A ammeter standard), or specify DC volts
Master breaker (DC-75 amp standard; 50 or 100 amp optional, single pole)
10 branch circuit capacity, 8 installed standard: 1-5A, 2-10A, 4-15A, 1-20A
Indicator lights on every circuit.
LS-III set included.
Multiple position ground Bus Bar included.
Size: 5 1/4″ W x 15″ H x 4″ D, (13.3 x 38.1 x 10.2 cm)
Description
Options
Meters:
Standard installed voltmeters are for 12 VDC or 115 VAC applications. (Ammeter range depends on master breaker value.) Optional voltmeters may be installed for 24 VDC or 230 VAC applications.
Contact the factory for a complete list of metering options.
Alternate Circuit Breaker
Configurations:
Changing circuit breaker value mix or location is never a problem! Simply advise us of the breaker arrangement you need. Please allow 3-5 days additional lead time to complete the modification.
Note: There is a mod. fee for special configurations – contact factory.