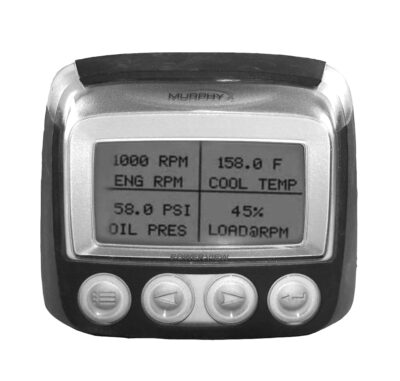 POWERVIEW
• For Modern Electronic Engines and Equipment Applications Using SAE J1939 Controller Area Network
• Displays Over 30 Standard SAE J1939 Parameters Broadcast by Engine and Transmission ECU's
• Graphical Display Features Wide Operating Temperature Range Viewing (-40 to 167°F/75°C).
• Displays Active and ECU-Stored Faults with Text Description for Diagnosing Equipment Malfunctions
• Simple Connection to Optional Components
Description
The PowerView is a powerful new display in a line of components manufactured by FWMurphy as part of its J1939 MurphyLink™ Family. The J1939 MurphyLinkTM Family of products has been developed to meet the needs for instrumentation and control on electronically controlled engines communicating using the SAE J1939 Controller Area Network (CAN).
The PowerView System is comprised of the PowerView and the MLinkTM PowerView Analog Gages. The PowerView is a multifunction tool that enables equipment operators to view many different engine or transmission parameters and service codes. The system provides a window into modern electronic engines and transmissions. The PowerView includes a graphical backlit LCD screen. Back lighting can be controlled via menu or external dimmer potentiometer. The display can show either a single parameter or a quadrant display showing four parameters simultaneously. Diagnostic capabilities include fault codes with text translation for the most common fault conditions.
The PowerView has four buttons using touch sensitive technology, which eliminates the concern for push button wear and failure. In addition, operators can navigate the display with ease. Enhanced alarm indication uses ultra-bright alarm and shutdown LEDs (amber and red). It has a wide operating temperature range of -40 to 185ºF (-40 to +85ºC), display viewing -40 to 167ºF (-40 to +75ºC), and environmental sealing to +/-5 PSI (±34 kPa). In addition the PowerView features Deutsch DT style connectors molded into casing and fits quickly and easily into existing 2-1/16 in. (52 mm.) diameter gage openings with little effort.
Other components in the system are microprocessor-based MLinkTM PowerView Analog Gages for displaying critical engine data broadcast by an electronic engine or transmission's Engine Control Unit (ECU): engine RPM, oil pressure, coolant temperature, system voltage, etc. and a combination audible alarm and relay unit for warning and shutdown annunciation. Up to 32 components may be linked to the PowerView using a simple daisy chain wire connection scheme using RS485. The PowerView and all connected components can be powered by either 12 or 24-volt systems.
Description
Display Parameters
The following are some of the engine and transmission parameters displayed by the PowerView in English or Metric units (when applicable) consult engine or transmission manufacturer for SAE J1939 supported parameters:
• Engine RPM
• Engine Hours
• Machine Hours
• System Voltage
• % Engine Load at the Current RPM
• Coolant Temperature
• Oil Pressure
• Fuel Economy
• Throttle Position
• Engine Manifold Air Temperature
• Current Fuel Consumption
• Transmission Gear Oil Pressure
• Transmission Gear Oil Temperature
• Transmission Gear Position
• Active Service Codes
• Stored Service Codes from the engine
• Set Units for Display (English or Metric)
• View Engine Configuration Parameters
Accessories
– PowerView Analog Gages
– PowerView Wiring Harnesses
Specifications
Display: 1.3 x 2.6 in. (33 x 66 mm.), 64 x 128 pixels
Operating Voltage: 8 VDC minimum to 32 VDC max
Reversed Polarity: Withstands reversed battery terminal polarity indefinitely within operating temperatures
Operating Temperature: -40 to +85ºC (-40 to185ºF)
Display Viewing Temperature: -40 to +75ºC (-40 to 167ºF)
Storage Temperature: -40 to +85ºC (-40 to185ºF)
Environmental Sealing: IP68, +/- 5 PSI (+/- 34.4 kPa)
Power Supply Operating Current: (@ 14 VDC) = 52 mA minimum; 268 mA maximum (LCD heater on)
CAN BUS: SAE J1939 Compliant
Case: Polycarbonate / Polyester
Clamp: Polyester (PBT)
Connectors: 6-Pin Deutsch DTO6 Series
Maximum Panel Thickness: 3/8 in. (9.6 mm.)
Mounting Hole: 2.062 inch (52 mm.) in diameter
Auxiliary Communications (Gage): One (1) RS485 port, MODBUS RTU master, 38.4K baud, N, 8, 1 or 2, half duplex
Potentiometer Input: 1K ohm, 1/4 W
Shipping Weights (all models): 1 lb. (450 g)
Shipping Dimensions (all models): 6 x 6 x 6 in. (152 x 152 x 152 mm.)
Warranty
A two-year warranty on materials and workmanship is given with this FWMurphy product. A copy of the warranty may be viewed or printed by going to www.fwmurphy.com/warranty.asp.